Browsing Category "Teachers"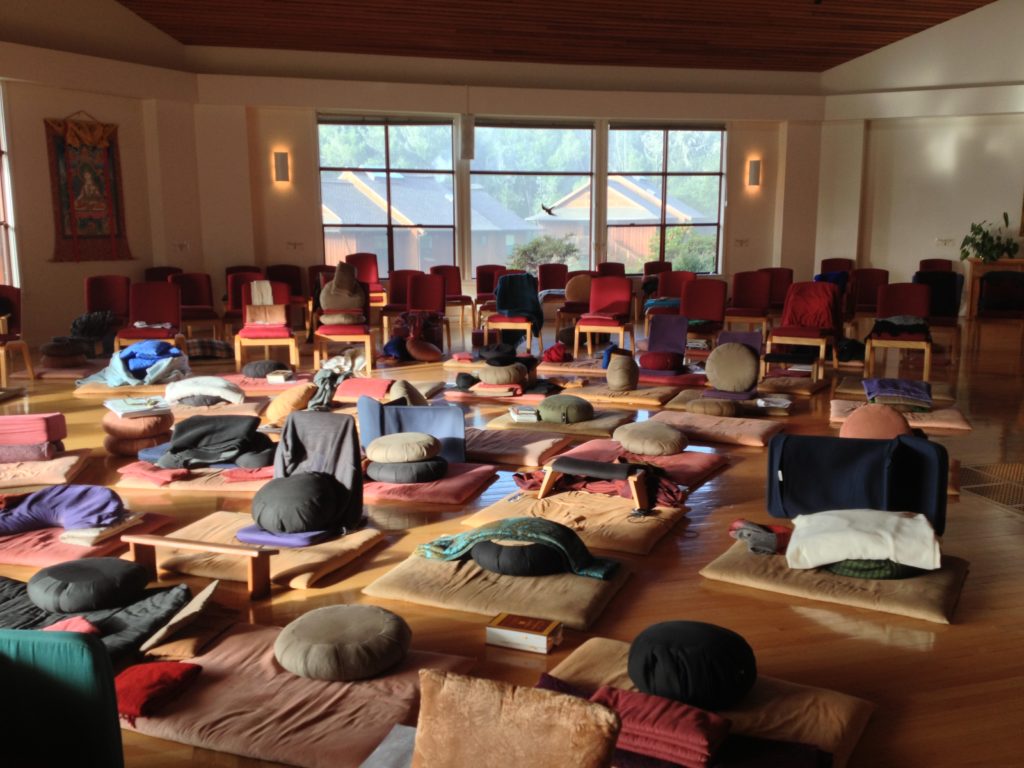 Tomorrow night (Feb 25), I'll lead the Tuesday Night Insight group as usual, but for the next six Tuesdays I'll be away on retreat at Spirit Rock. (Where I took this photo during a previous retreat.)
Update: The Tuesday Night group will not meet during the Coronavirus crisis. Instead many will be listening — from home — to selected recorded meditation instructions and/or talks from senior teachers who've taught at Spirit Rock. Here's the schedule:
Tuesday, March 3
Joseph Goldstein: "There is a Body"
Meditation lasts 34 minutes.
Want more? Click here to listen to Joseph's reflects on Mindfulness of Knowing. (16 minutes)
Tuesday, March 10
Phillip Moffitt: "Earth to Wind; Stillness to Movement"
Meditation lasts 40 minutes. The instructions are intermittent, with several periods of silence. This is followed by about 5 minutes of additional reflection on the Dharma. Stop the tape at about the 45-minute mark. (The final 9 minutes of the tape are logistical announcements that you don't need to listen to.)
NOTE: There's quite a bit of noise at the start, so begin tape at 0:40.
Tuesday, March 17
Thanissara: "Working with Patterns of Mind"
Meditation lasts 39 minutes.
This is a talk/guided meditation for working with difficult thoughts and emotions. (Not a lot of silence.)
NOTE: There's a brief amount of noise at the start of the tape.
Tuesday, March 24
Jack Kornfield: "Guided Meditation with Sound"
Meditation lasts 25 minutes.
In these instructions, Jack uses a variety of bells and the spoken word.
Want more? Click here for Jack's talk on Finding the Amazing Joy of Living, Renewed in Mystery. (35 minutes)
Tuesday, March 31
Sharon Salzberg: "Real Happiness Introduction and Guided Meditation, Part 1"
Meditation lasts 25 minutes.
Want more? Click here for Real Happiness, Part 2 — Sharon speaking on mindfulness practice and walking meditation. (33 minutes)
Tuesday, April 7
Spring Washam: "Morning Instructional Sit"
Meditation instructions last 10 minutes (followed by 30 minutes of silence, then retreat announcements. Stop the tape at the 30-minute mark.)
Want more? Click here for the Wisdom of Inclusion — Opening the Heart to All Beings. (30 minutes)
NOTE: There are microphone problems in the beginning of the instruction tape, so start at 0:1:30.
***
I'll be back on Tuesday, April 14. Hope to see you then!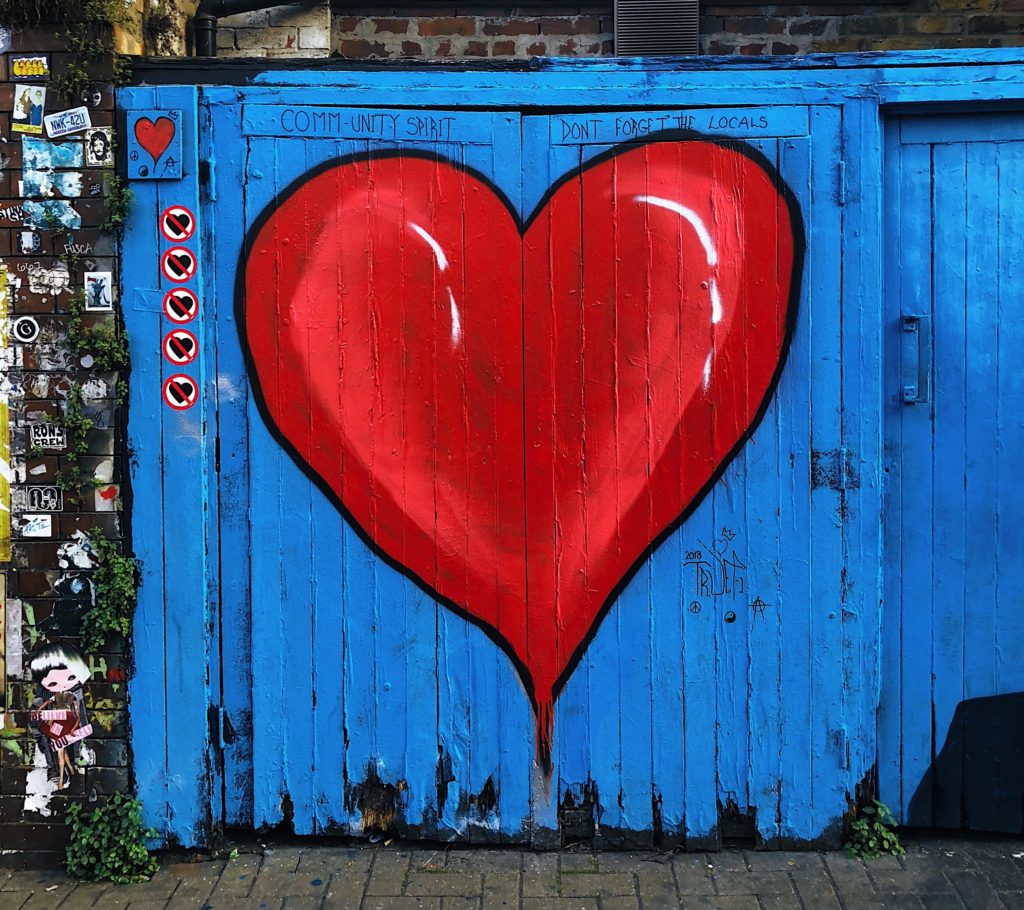 In the most recent newsletter from Spirit Rock, Jack Kornfield writes:
"After I got the call that Ram Dass had died, I closed my eyes. He is still here.
"I could feel the vast field of love that was shining from Ram Dass when Trudy and I taught with him just a couple of weeks ago. And I always will. On the final day of this last retreat, called Open Your Heart in Paradise, Ram Dass was frail and didn't have access to many words. But he was there in the most powerful way. He swam delightedly with the group in the ocean, chanting 'Oh Joy, Oh Joy.'
"And on the retreat's last morning, he put his hands on a basket of 350 wrist malas, each tied with a thread of his gurus blanket, to tenderly bless them. Then, as participants came by slowly to receive their malas, he silently looked into each face, offering to all what is sometimes called "the glance of mercy", a gaze so full of love that it left many of us speechless and weeping, drunk with blessing…
"For me he is family and Sangha, even now still spreading his playful tough delicious love everywhere, connecting with our hearts, "yum, yum" as he would say. He was so ready to leave the wheelchair and his skinny and broken body, to go home.
"Home is not somewhere else. It is here, in life and death, in the eternal dance of consciousness, weaving together form and the formless mystery from which it all comes."
***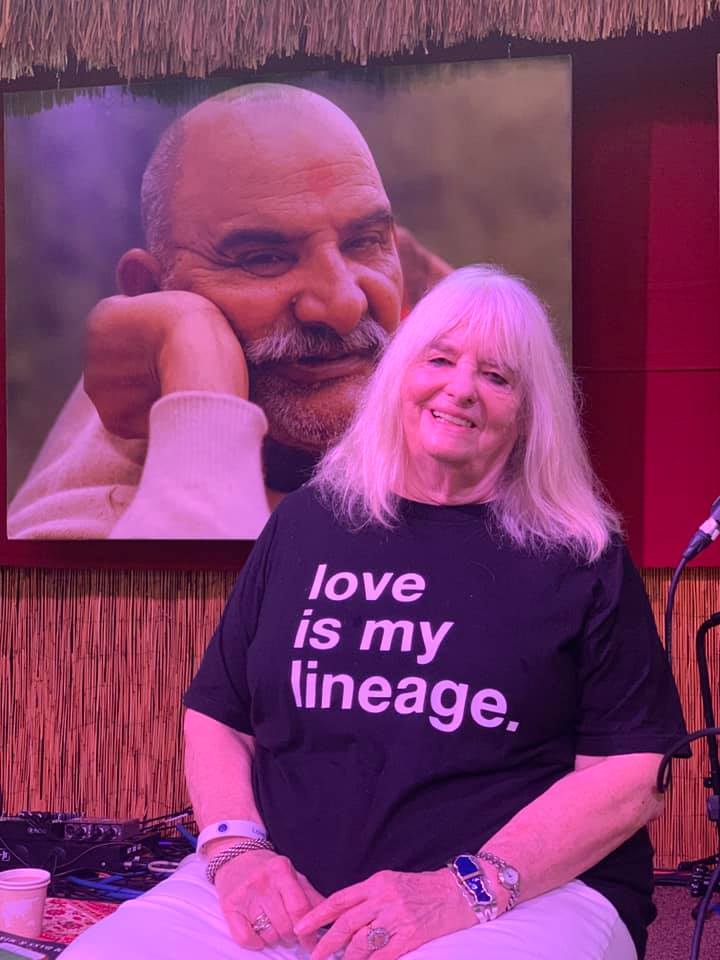 While I was away, Mirabai sent me this link to a video recording of the "Just Like Me" meditation she led for 2,000 people (online) in celebration of World Kindness Day, which apparently was Nov 13th. (Who knew!)
And check out this photo from the retreat in Maui she's leading right now with Ram Dass, Jack Kornfield, Trudy Goodman, and Krishna Das.
Oh, and what about the t-shirt she's wearing! Is that great or what!!!
***
(Mirabai's meditation begins at the 33:32 point of the recording; her photo can be found on Facebook; the t-shirt is from Black Lotus Rising.)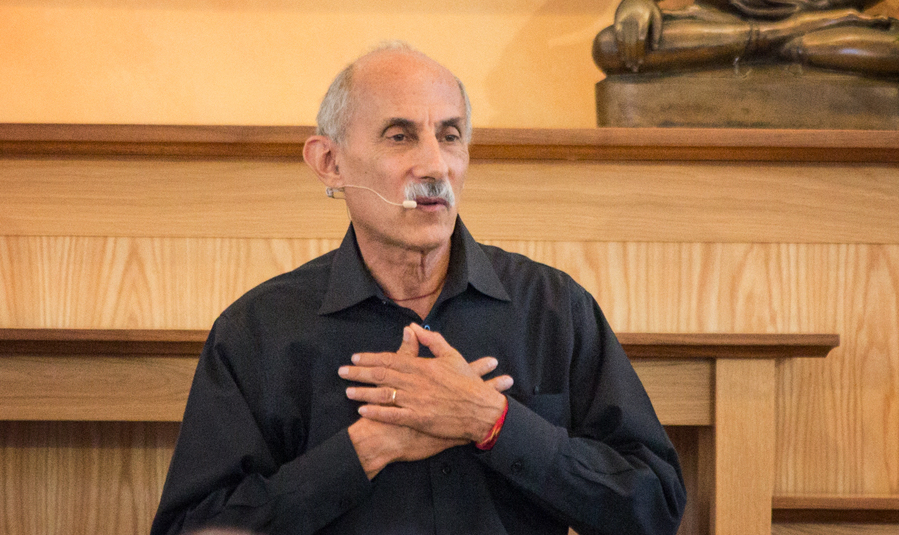 The following is an excerpt from Let's Just Call It Love, by Jack Kornfield, published in the March 2019 issue of Lion's Roar magazine:
"The important question is not the future of Buddhism…
"It is clear there won't be a single Buddhism in the West. There will be different Buddhisms. Every other Buddhist culture has many sects and traditions living side by side. These express the ten thousand skillful means of awakening: through devotion and meditation, direct pointing and transmissions, myth and story, community and ritual, wise heart and wise society.
"There are conservative, traditional sects who preserve the teachings, and in each generation, there are adaptive sects who modernize and renew them. Even though they can glare at each other across the divide, these perspectives complement each other. We need them both.
"Buddhist traditions in the West are already being changed. While we don't know what the next decades will bring, there are hints.
"Buddhism in the West is already not as patriarchal as in the past, embodying more female leaders and more feminine wisdom. It is less hierarchical and more democratic. While building monastic traditions, it is more lay-oriented.
"There is more emphasis on meditation and less on the practice of devotion and offering. There is a growing use of self-compassion to counterbalance spiritual ambition and misguided effort.
"While true to its roots, Buddhism is also incorporating the complementary skills of modern psychology, trauma work, and neuroscience. Diversity and inclusion is a visible direction for Buddhist communities everywhere, as is more active engagement in the alleviation of suffering in our society….
"And true to capitalism, the dharma is being packaged and sold. Some people are worried about the watering down of the dharma, the secular selling without a deeper foundation. History laughs. Let it spread in ten thousand forms. The dharma can take care of itself! It is magnificent, the timeless truth, the reality of life.
"And honestly, though we Americans are expert at misusing things, there is a centuries-long tradition of misusing the teachings prior to us. Magnificently watered-down dharma was and is widespread across Buddhist Asia.
"There are whole sects that live for money-making funerals, and millions who go to temples to get fortunes read or to make offerings for business success, better luck in marriage, or to offset their continuing misdeeds. Yet these societies are also the treasure houses of profound dharma and great sanghas. Popular Buddhism and devotion to deep practice inter-are. They always exist in a dance together.
"I say let the dharma spread and become so common it becomes an invisible understanding, enhancing humanity in every field. Let it foster virtue, inner well-being, respect for basic human dignity, care for all life, and the awakening of freedom.
"Let these seeds of goodness flower in a thousand forms.
"It doesn't even have to be called Buddhism.
"Let's just call it love."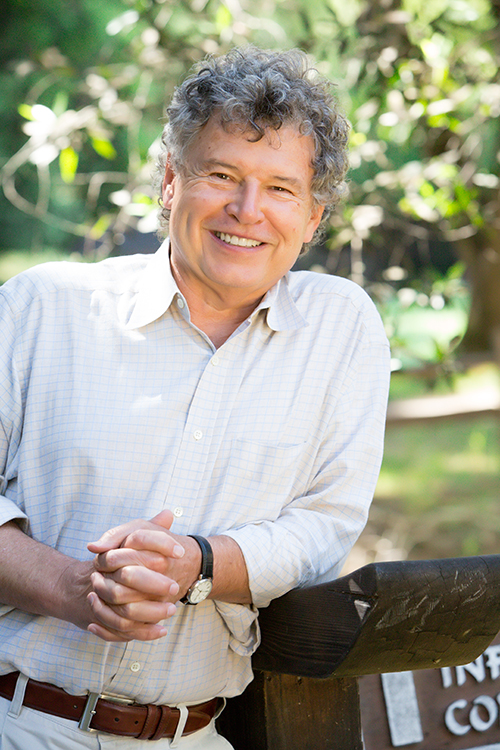 This coming Monday (Sept 16), Phillip Moffitt will lead a guided meditation (about 30 min), followed by a dharma talk (about 1 hr), at the Spirit Rock Community Center near San Francisco. But you don't have to go to California to take part!
The evening is available live online — and you can watch for FREE — but only if you register in advance (click here).
It begins at 7:15 pm Pacific Time (9:15 pm St. Louis time), but the video recording is available for at least two weeks after the event ends — so you don't even have to stay up late to watch it!!!
But again, ONLY IF YOU REGISTER BEFORE IT BEGINS. (register here)
Phillip doesn't do this often. Now's your chance. Don't miss it!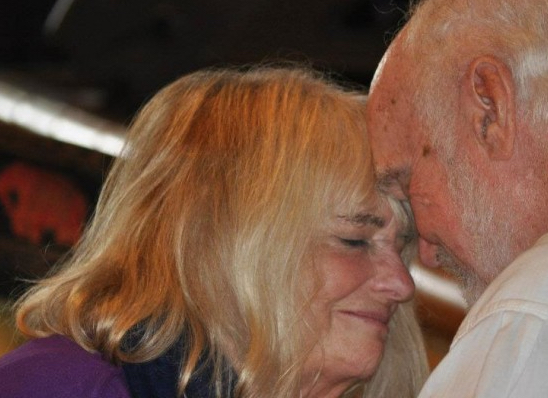 Last week Mirabai Bush led a really beautiful on-line guided meditation (only 17 minutes long) for a Facebook "Mindful Women Meditate" event, in which 3,000 people participated — including me!
Anyone who's spent any time at all around me (in person, or on this blog), already knows that being introduced to meditation by Mirabai totally opened my heart — an experience that I have come to understand and appreciate more and more over the years. (I know I'm not alone in having had this wide-heart-opening with Mirabai. The moderator of the Facebook session calls her the "Mother of Mindfulness.")
If you'd like a sense of what meditating with Mirabai can be like, come join her in that big, big room she talks about in this guided meditation — now posted on YouTube. (click here.)
Relax. Breath. Enjoy.
(The photo above is of Mirabai with Ram Dass at one of their annual Open Your Heart in Paradise retreats.)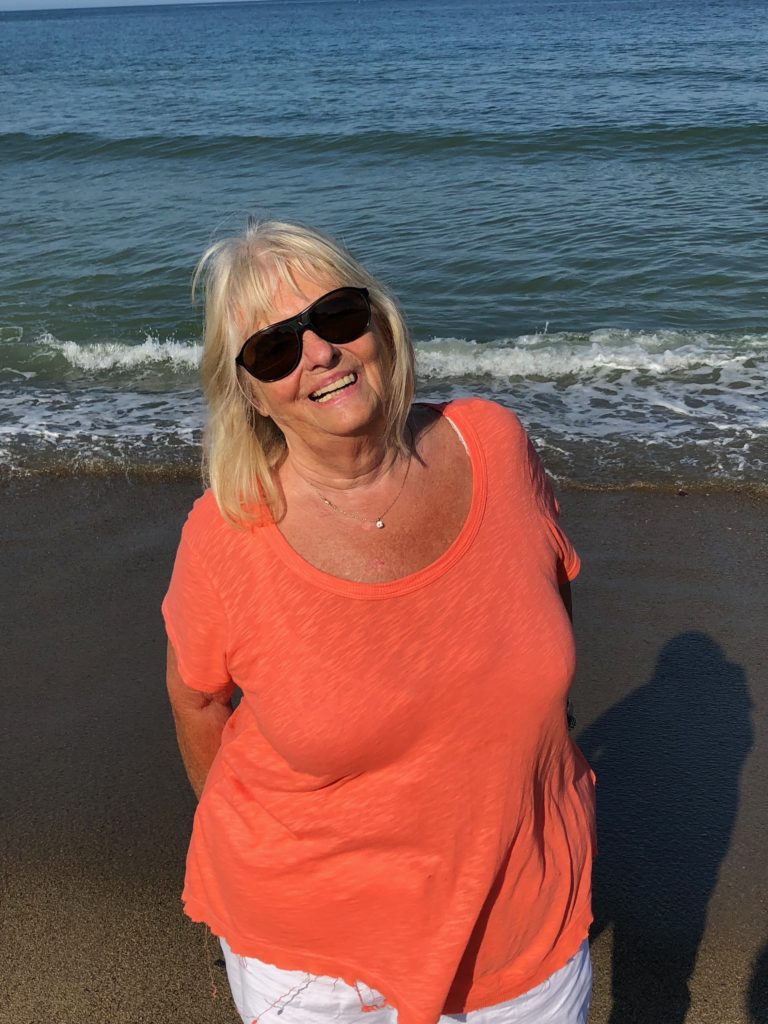 Mirabai sent me this photo of herself awhile back. I keep a copy on my desk because I love her. And because it makes me happy just to see her. Even in a photo!
Today she sent me this e-mail:

I'm leading a short meditation to bring women together in a contemplative on-line space on August 8 (next Thursday) at 2 pm St. Louis time. If you can, please join us.
We are exploring what it means to be mindful (and spirit-ful) women together. There'll be a short discussion after the meditation. Many great women are in the initial group. Check it out here. It's free (as it should be!)
Love,
Mirabai
***
This invitation is not just for me. It's for any woman (self identified) who's interested in mindfulness meditation. I will definitely be on the call. Hope you will too!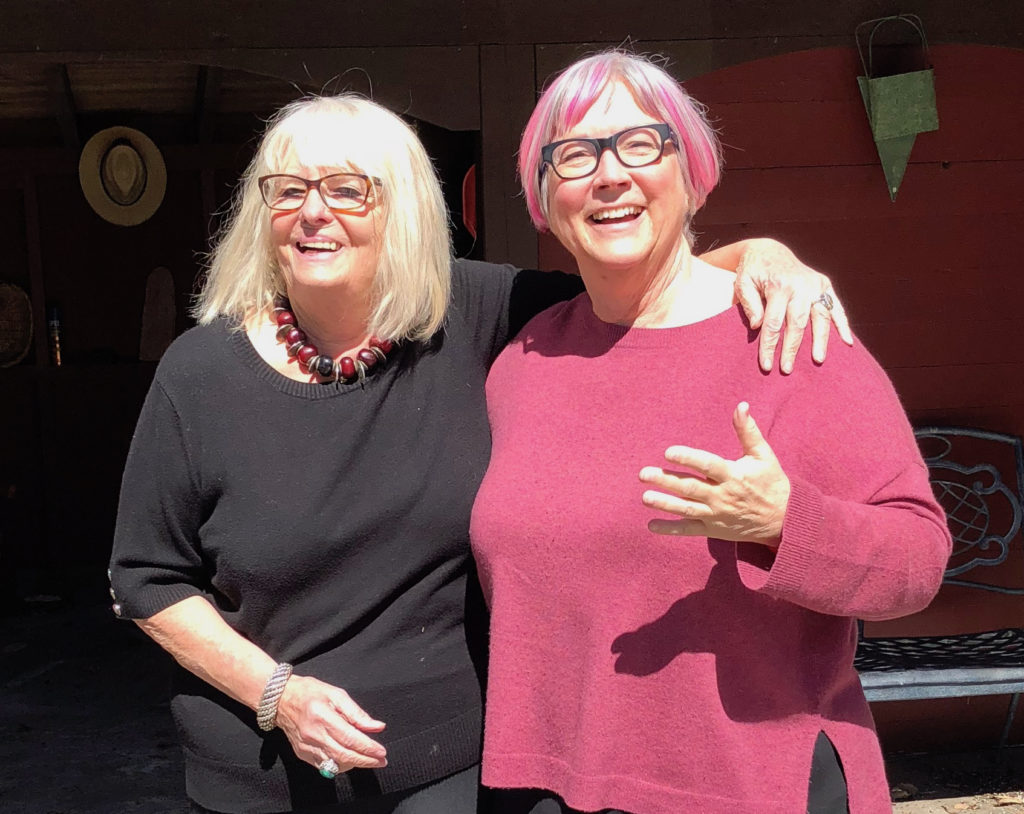 For today, one last post before I leave on Friday for a month-long retreat at the Forest Refuge:
Ajahn Sucitto's very succinct response to a pair of written questions submitted during a recent Q&A session (also at the Forest Refuge).
Question #1:
"Is there anyone equivalent to the saints who one can ask for help with one's practice?"
Question #2:
"If you could only give one suggestion or piece of advice to someone to further them towards liberation, what would that suggestion or piece of advice be?"
Sucitto's response:
"Well, the answer to both these questions would be: Find a spiritual friend.
"And, if a teacher arises that you find yourself getting good results with, follow that teacher."
***
I wholeheartedly agree.

After the retreat, I'll be staying with my spiritual friend and teacher, Mirabai. (That's us, in the photo above.)
Then I'll be home on July 3 and hope to post again on July 8. I expect I'll have a lot to say. Stay tuned.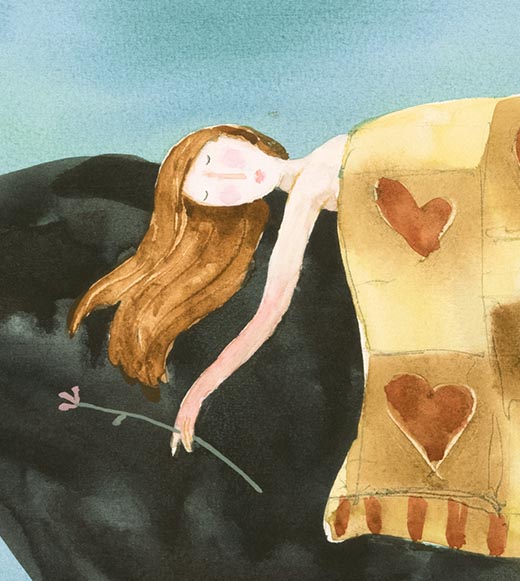 I can't give you a link to the recorded talks from the Nature of Awareness retreat I just went to, because those talks are only available to people who attended the retreat. But I can report on my own experience, and my experience is this:
I find myself returning again and again to the following words, which struck me as deeply significant when Phillip offered them during his guided meditation on the Earth and Wind Elements:
"In the stillness, the mind can find ground. Can rest. But also in movement. Attention can rest in knowing movement. Attention can rest in regard to a moving object — whether it's the wind element, or thoughts, or desire or aversion or joy… Attention can rest. This knowing capacity is not dependent on whether the object that is being know is still or moving. 
"This stillness, that allows the resting, is awareness."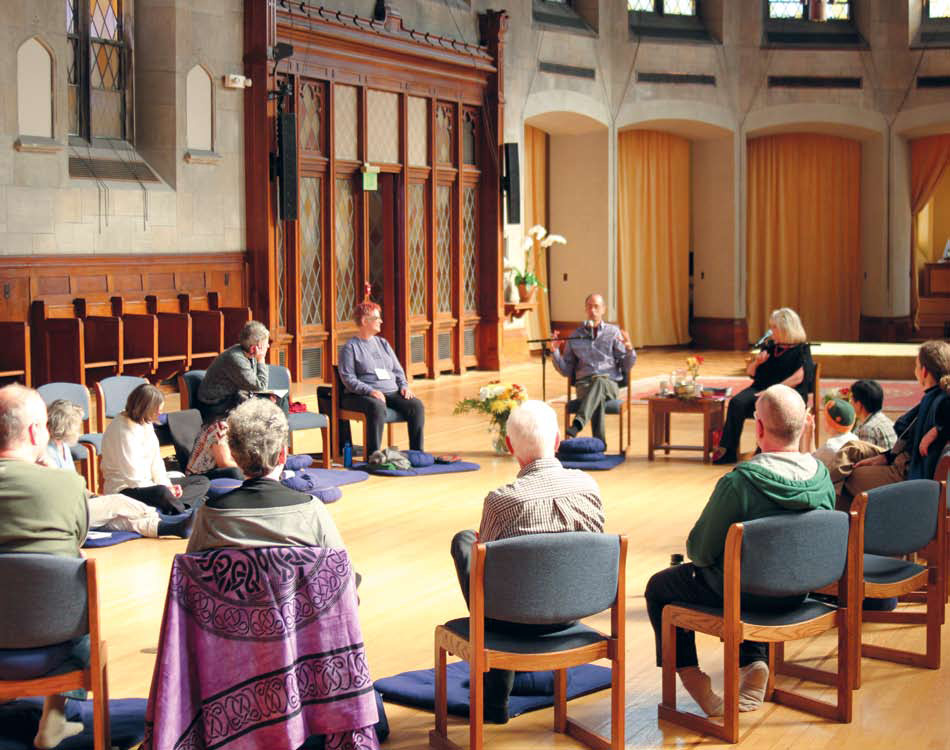 In the midst of making travel plans to attend the June month-long retreat at the Forest Refuge (in Barre, MA), I took a quick look at Mirabai Bush's new website, since I'll be staying a few days with her after the retreat is over — Mirabai is my "Dharma Godmother" — and while I was scrolling down to look at her calendar, I came across this picture. (above) That's Mirabai, on the right, with blond hair, dressed in black, holding a microphone and looking across the room, directly at…ME!!!!
Yes, that's me!!!, in the purple long-sleeve t-shirt, with cropped reddish-orange hair, and funky black-and-white-checked glasses. I'm not sure, but I think this was taken in about 2010. It was at a conference on Contemplative Practices in Academia at the Garrison Institute (in upstate New York), which I had more or less "crashed" (I am not in academia), because it was the only way I knew, back then, to get to be in the room with her. You can see how riveted I was.
At lot has changed since then (not the least of which is my hair!) but I would still go to extraordinary lengths to be in any room that Mirabai is in.

I love you, Mirabai. I'll see you soon.