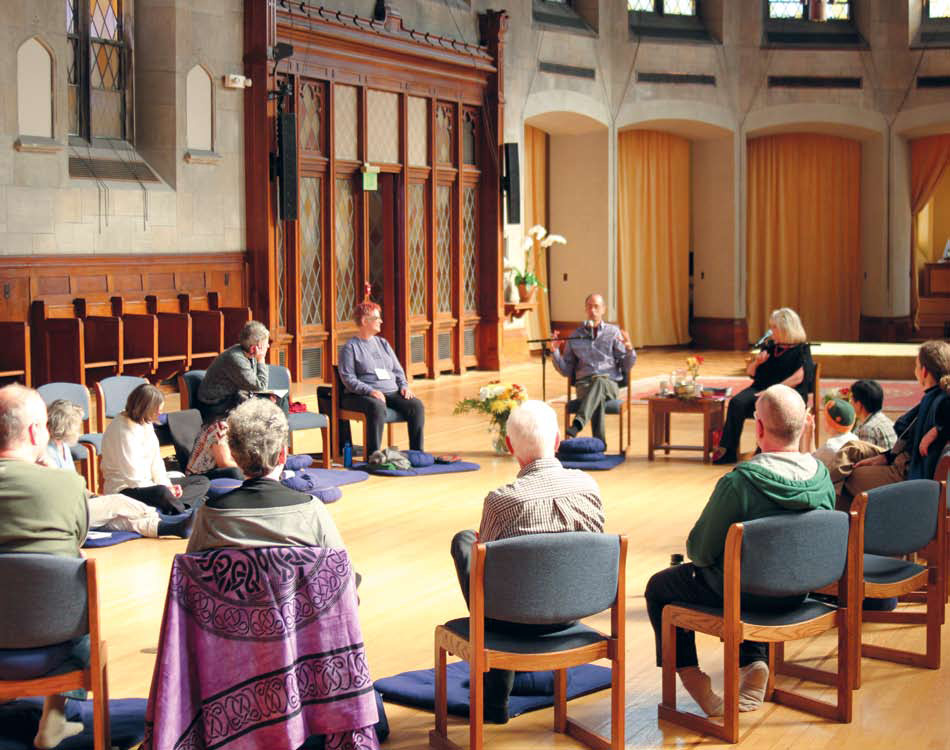 In the midst of making travel plans to attend the June month-long retreat at the Forest Refuge (in Barre, MA), I took a quick look at Mirabai Bush's new website, since I'll be staying a few days with her after the retreat is over — Mirabai is my "Dharma Godmother" — and while I was scrolling down to look at her calendar, I came across this picture. (above) That's Mirabai, on the right, with blond hair, dressed in black, holding a microphone and looking across the room, directly at…ME!!!!
Yes, that's me!!!, in the purple long-sleeve t-shirt, with cropped reddish-orange hair, and funky black-and-white-checked glasses. I'm not sure, but I think this was taken in about 2010. It was at a conference on Contemplative Practices in Academia at the Garrison Institute (in upstate New York), which I had more or less "crashed" (I am not in academia), because it was the only way I knew, back then, to get to be in the room with her. You can see how riveted I was.
At lot has changed since then (not the least of which is my hair!) but I would still go to extraordinary lengths to be in any room that Mirabai is in.

I love you, Mirabai. I'll see you soon.