Browsing Category "Teachers"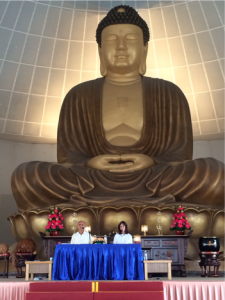 I just got an email from Jack Kornfield (not from him personally….from his website), in which he talks about leading Western-style meditation retreats in Singapore and China!
Look closely at the little table in front of the big Buddha in this photo. That's Jack with his partner-and-fellow-Dharma-teacher, Trudy Goodman, teaching in Singapore's largest temple. (Quite a backdrop!)
I'll let Jack tell you all about it. Click here to read his account.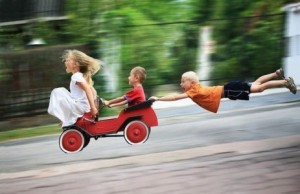 I booked my tickets yesterday for the trip to Garrison, NY, for the next CDL workshop, after which I will drive to Massachusetts to spend Saturday/Sunday with Mirabai Bush (my first Dharma teacher and the one whose whole-wide-world love make me hugely, wildly, happy.)
So for today, I will post this poem by the legendary Indian poet, who inspired Mirabai to take on her name.
The earth looked at Him and began to dance.
Mira knows why, for her soul too
is in love.
If you cannot picture God
in a way that always
strengthens you,
You need to read
more of my
poems.
–Mirabai, translated by Daniel Ladinsky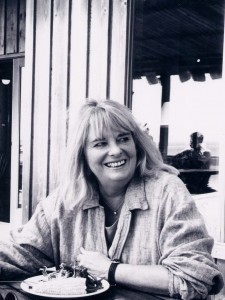 My very first Dharma teacher (and my very, VERY dear friend and mentor), Mirabai Bush, was featured on Krista Tippett's radio program: On Being, a week ago Sunday (7/19).
I hesitate to say anything about Mirabai because whenever I do, I always end up saying something that sounds so way over the top..and yet, it doesn't even begin to come close to what an extraordinary human being she is…and what an amazing effect she has had on my life. Let me just say that I love her. And I am loved by her. But in a very unusual, non-personal kind of way. (I told you…it's hard to explain.)
Anyway. When you get a chance, listen to her interview here.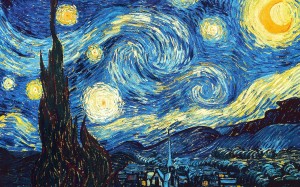 One of my teachers asked me why I meditate.
I said I do it because I want to know for myself the luminous/timeless/transcendent nature of reality that T.S. Eliot, Thomas Merton, and William Blake….not to mention Jack Kornfield, Joseph Goldstein, and Phillip Moffitt…have all been talking about.
And I do it because I understand that meditation is one of the best ways to open oneself to this experience.
And because I have trust that this kind of opening is possible–for me. As Jack writes in After the Ecstasy, the Laundry:
"As surely as we inhabit the mystery of birth and death, as surely as the night is full of stars, as surely as we know the necessity of love, we contain the possibility of awakening."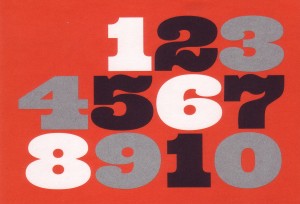 I received an email from Phillip Moffitt over the weekend that included a list of Ten Values Associated with Well-Being, which he has used to help top level managers identify their core values and become more effective in their leadership roles.
I'm simplifying the text here–except for number 5, which I am quoting in full because somehow that one really jumped out at me. (Especially the part about driving in traffic!)
You can read Phillip's full text on his DharmaWisdom website. (click here)
Ten Values for Well-Being
1. Be truthful.
2. Be genuine and authentic.
3. Be kind.
4. Be especially compassionate to those having difficulty.
5. Act and make choices in terms of relatedness. Know that you are part of something larger. For example, when you are driving in heavy traffic, know that you are part of the traffic and not separate from it. Or, in the workplace, maintain an awareness that you are dependent on others and others are dependent on you. Having a sense of your connection to others breaks the aloneness that's part of our existential quandary as human beings.
6. Honor your own creativity.
7. Primarily spend time on areas you care about.
8. Continue to learn and grow.
9. Be present.
10. Take responsibility for your body.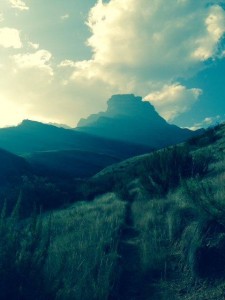 I just received the year-end newsletter from Dharmagiri (which is the Hermitage in South Africa that I'll be going to in January). It included this photo of the Sacred Mountain (which is the translation of Dharmagiri) along with this message from Kitisarro and Thanissara, who will be leading the retreat:
"It's interesting that the the word for gratitude in Pali, katannuta, actually translates as knowing what has been done. Gratitude is less a perfunctory "thanks very much" but more a capacity to appreciate the learning from the whole spectrum of life experiences; even difficulties are something we can be grateful for — usually in retrospect!
"How is that? At some point, once we move out of our reactivity and quiet ourselves into a deeper wisdom, we attune to a knowing that accepts the perfection of our life — just as it is. From there, we are able to feel the blessing of it all."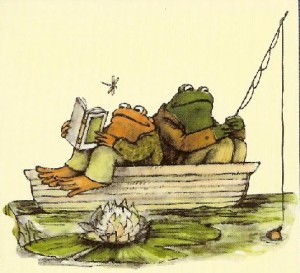 The latest issue of Spirit Rock News featured an article by Phillip Moffitt, in which he talks about the relationship between patience and persistence and emphasized their importance "for developing a sustainable meditation practice and for making change in your life."
Phillip says: Patience is the ability to abide with things the way they are. It allows you to tolerate failure, disappointment, defeat, unpleasantness, and confusion–without giving up–both on the meditation cushion and in life. Persistence is the capacity of energetic resolve–the determination to hold steady to your intentions. Persistence brings into play the essential energy for directing your attention to what needs to be done right now…
Sometimes we can be impatient with the world: however, I don't recommend starting with the world as the focus of your patience practice. It is far better to begin with fostering patience toward yourself. When you are patient with yourself, you naturally become patient with others and it spreads to those around you…
Persistence gives patience a purpose. If there isn't a goal with a set of values to which you are applying yourself, what can seem like patience is really dilly-dallying. You're not really about anything. You're doing a little of this, a little of that, and you can think, "I'm a patient person. I'm easy-going. I'm doing fine in this area of patience." But if there is not a commitment to something, if there is no alignment of persistence, then is that really being patient? Or are you simply tuned-out?
Through persistence you will eventually develop insight. But, if you're not patient with yourself, you will not be able to be persistent. You don't have to do anything extra. Just be patient and persistent in staying present, and the insights will come. 
***
Read the full article on Phillip's website by clicking here.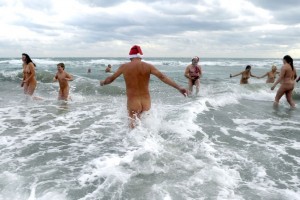 In case you're looking for a different way to start the New Year (if romping through the surf in your birthday suit isn't an option), Sylvia Boorstein will be hosting a New Year's Day Celebration and Intention Setting Event at Spirit Rock, which will be available by live video stream.
This special retreat day will be an opportunity to practice, to set intentions, and to connect with deepening wisdom. A portion of the day will be in silence, reviewing and practicing techniques to strengthen concentration and clarify mindfulness. Get out your journal to record the intentions you set!
This event will be held on Thursday, January 1, 2015, starting at 12:00 noon (St. Louis time) and run till 6:00 pm. Cost is $60. (Much cheaper than a trip to the beach!) For more information and to register, click here.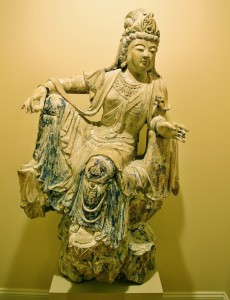 I was delighted to read in this month's newsletter from IMS (Insight Meditation Society) that my teacher, Lila Wheeler, and her late father, Charles Wheeler, have donated this gorgeous, 100-year-old Kwan Yin statue to the retreat center. The statue, which is from China, had been in Lila's father's home for many years. (click image to enlarge)
Kwan Yin is the figure that represents the embodiment of compassion and is often referred to as "she who hears the cries of the world."
Lila says: "This Kwan Yin is discreet and never overwhelms you, yet her luminous presences is strong and deepens with contemplative observation. Her face is soft, ageless. The colors and folds of her robe remind us of naturally flowing water — she is both wild and highly civilized.
"Her body is dynamic yet at rest as she turns and flows from one posture to another, like Ananda, whose enlightenment came as he lay down, fatigued from trying too hard.
"Is Kwan Yin standing up from meditation or is she just about to sit down? Perhaps she's pausing to recall one let thing she wanted to tell us. She seems to be displaying the jewel of her own enlightenment and offering it as a gift — simultaneously."
***
In July, I'll be at the Forest Refuge (which is adjacent to IMS), so I'll get to see her "in person"!
To read more about what's new at IMS and the Forest Refuge — including lots of photos — click here.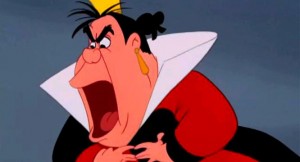 Today I want to point you to an excellent blog post by Ajahn Sucitto, titled Sex, Sin and the Inner Tyrant, in which he talks about….well, sex…and the terrible things that result when the "Inner Tyrant….is supported by, or morphs into, the Outer Tyrant of political or religious repression." (His post was written after teaching a retreat in Ireland, so the grim accounts of the Magdalene Laundries are particularly on his mind.)
On the "Inner Tyrant":
Take note of the tyrannical voice: "never," "always," "the rest of your life," and "everyone thinks" are standard references. The Tyrant always presents perceptions and impressions as solid truth, and based on that, operates in terms of black-and-white realities, prophesies and judgements. Justice and "what they/I deserve" are common slogans, messages that blaze through the mind with such conviction that we never examine their logic — and how they sour us.
Once infected by the Tyrant, the mind can justify any action; particularly a wrathful response to perceived evil. Hence Crusades, missions, jihads, witch-hunts pogroms, torture and jails. The Tyrant often masquerades as the Just God.
Justice? It's too often a mask for self-interest and revenge…….
Meditation offers a resolution of the conundrum of passion. All compulsions grab the heart and deprive us of freedom; without meditation, people just use the Tyrant of blame, repression and punishment to ward off the Tyrant of compulsive desire. When we're thrown between these two forces, we lose self-respect, empathy and clear understanding.
But when we operate in terms of present-moment experience, and a clear and empathic approach to meeting the energies of fear, rage and desire as they happen to us, then there's a way out of the tyranny. The energy of desire can then be held and correctly channeled  not into prophesies or assumptions of what others think or God wills, but into the full fruition of the heart.
***
Click here to read the full post on Ajahn Sucitto's blog.