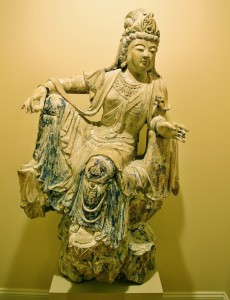 I was delighted to read in this month's newsletter from IMS (Insight Meditation Society) that my teacher, Lila Wheeler, and her late father, Charles Wheeler, have donated this gorgeous, 100-year-old Kwan Yin statue to the retreat center. The statue, which is from China, had been in Lila's father's home for many years. (click image to enlarge)
Kwan Yin is the figure that represents the embodiment of compassion and is often referred to as "she who hears the cries of the world."
Lila says: "This Kwan Yin is discreet and never overwhelms you, yet her luminous presences is strong and deepens with contemplative observation. Her face is soft, ageless. The colors and folds of her robe remind us of naturally flowing water — she is both wild and highly civilized.
"Her body is dynamic yet at rest as she turns and flows from one posture to another, like Ananda, whose enlightenment came as he lay down, fatigued from trying too hard.
"Is Kwan Yin standing up from meditation or is she just about to sit down? Perhaps she's pausing to recall one let thing she wanted to tell us. She seems to be displaying the jewel of her own enlightenment and offering it as a gift — simultaneously."
***
In July, I'll be at the Forest Refuge (which is adjacent to IMS), so I'll get to see her "in person"!
To read more about what's new at IMS and the Forest Refuge — including lots of photos — click here.