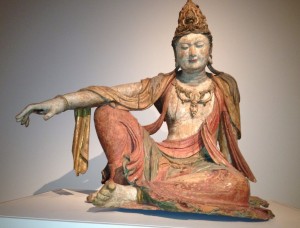 Last year I did a contemplative exercise developed by Jody Ziegler, for the Art History class she taught at Holy Cross College. She would send her students to the local art museum, asking them to choose one piece of art, which they would then look at — every week — for the entire semester (13 weeks). Their assignment was then to write a short paper, every week, after looking at that same piece of art. Each paper was to begin with the phrase: "Now I see…"
I fell in love with the idea after reading about it in a book she co-authored with Christopher Dustin, titled Practicing Mortality: Art, Philosophy and Contemplative Seeing.
So I tried it. I found a painting that caught my attention and spent at least half an hour, every week, for 13 weeks, looking at it and then writing about it in my journal, beginning with the phrase: "Now I see…."  The paining was Woman (in Strong Light), by Emil Nolde. The experience was, to say the least, eye-opening.
So now I've decided to do it again. This time, I've decided to do it with the 11th century Guan Yin sculpture, pictured in the photo above. (Thank you, Scott.) My first visit to Guan Yin will be this Friday night.
Stay tuned.