Browsing Category "Sangha at Large"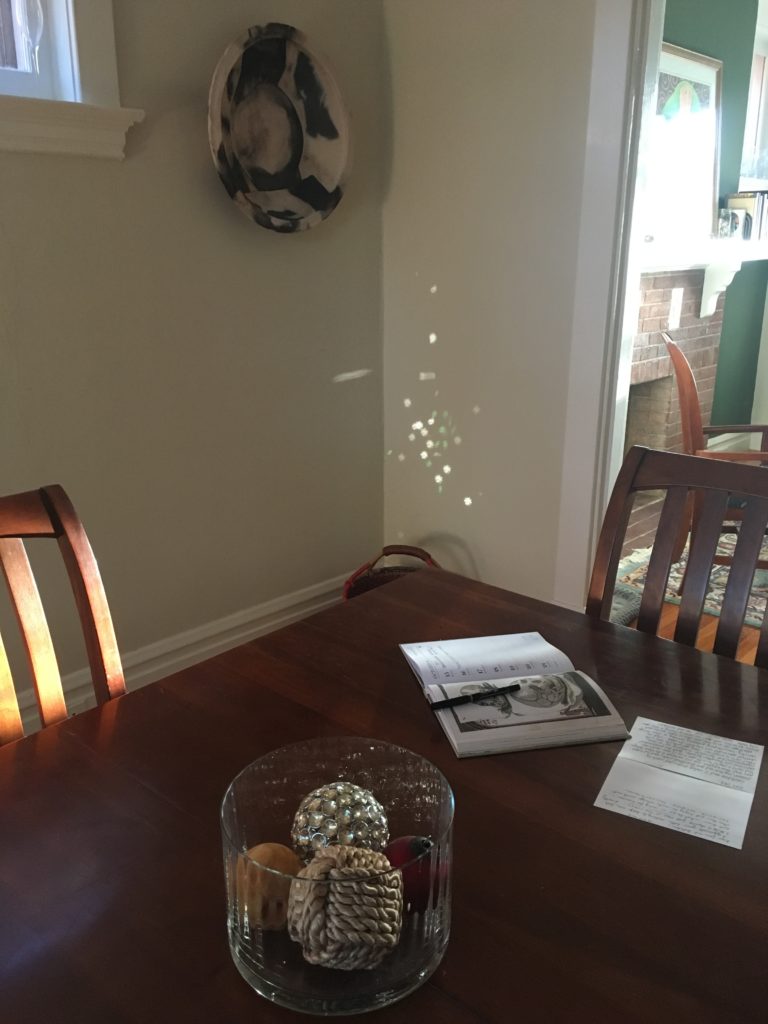 Yesterday morning I was startled to see a sparkle of light on the wall in a corner of my dining room. (So I took this photo.)
It made me think of a story Carol Wilson used to tell about one time when she was visiting the nuns in Burma, all the photos she took of them had circles of light around their heads and shoulders. When she showed the pictures to the nuns, they were delighted because they recognized the spots of light as devas (basically, the Buddhist equivalent of angels).
Of course, Carol's American companion said it was just the sun refracting off the lenses in the camera.
I like the nun's version better.
How wonderful it must be to see every sparkle of light as the manifestation of heavenly beings.
Yesterday I could see right away that the lights on the wall in my dining room corner were reflections of the sun off the little mirrors on my Buddha statue on the opposite wall. (see photo below)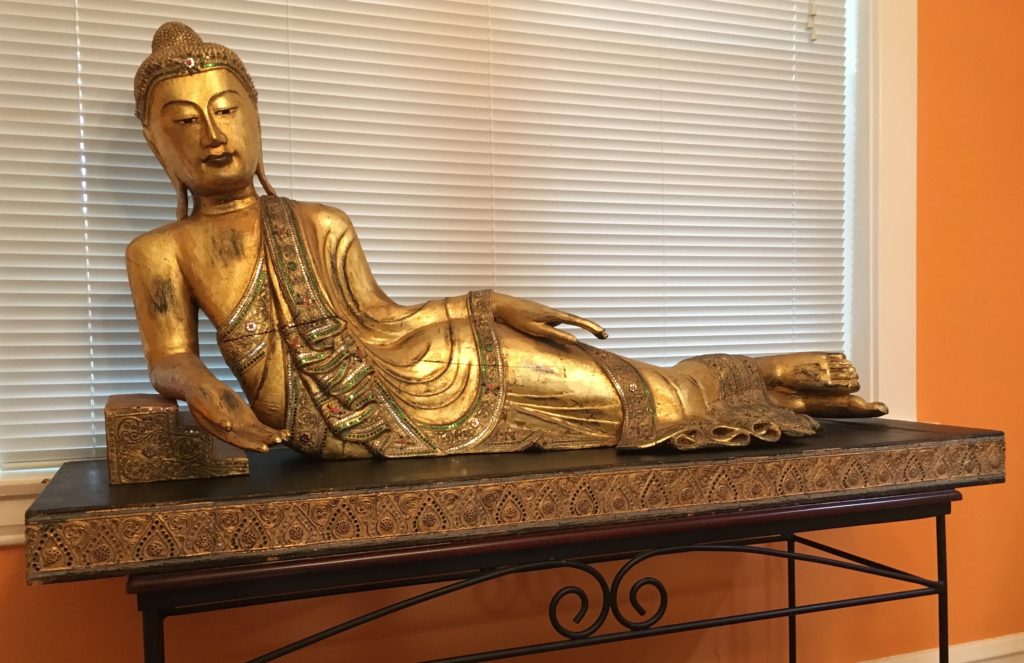 Still, light is pretty amazing. It's both a wave AND a particle…so who knows, maybe it's also a deva!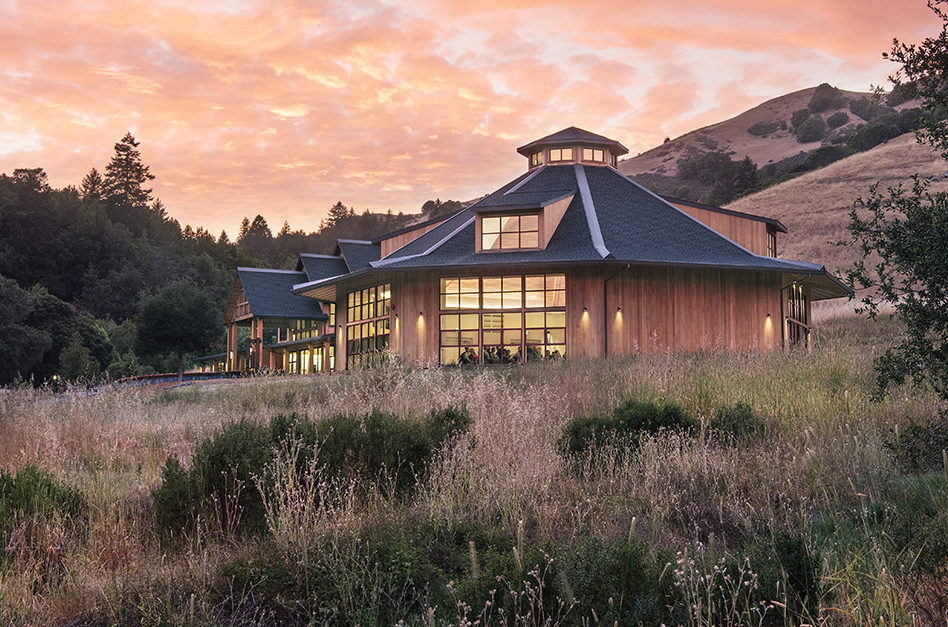 (Note: Tomorrow is the last Friday of the month so instead of posting, I'll be taking a Tiny Retreat. What's a Tiny Retreat? Find out here.)
***
Wish you could go to one of the Monday Night Dharma Talk and Meditation events taught by Jack Kornfield & Friends (held at Spirit Rock's beautiful new Community Meditation Hall pictured above), but don't want to get on a plane and fly out to California for the evening?
Here's what you do:
These Monday Night Dharma events are now available online — for FREE!!! — including the one scheduled for next Monday night (Oct 1), which will be taught by my mentor, Phillip Moffitt. These webcasts are live, so they run from 9:00 pm to 11:00 pm St. Louis time, BUT the video recording is available for 2 weeks after the event for anyone who registers, so you don't even have to stay up late to see it!
You just have to register by midnight of the day before the event.
Want to attend Monday Oct 1, when Phillip Moffitt is teaching? Register here.
Want to attend Monday Oct 8, when Mark Coleman is teaching? Register here.
Want to attend Monday Oct 15, when Nikki Mirghafori is teaching? Register here.
Want to attend Monday Oct 22, when Jack Kornfield is teaching? Register here.
***
I'll definitely be attending this Monday, when Phillip is teaching. Why don't you join me?
I'm posting this today (on National Voter Registration Day) in case you haven't already receive an email message from Jack Kornfield or one of the other 130 or more Buddhist teachers (see below) who are asking for your help in getting folks registered to vote (starting with yourself, of course!) in advance of the important election coming up in November.
***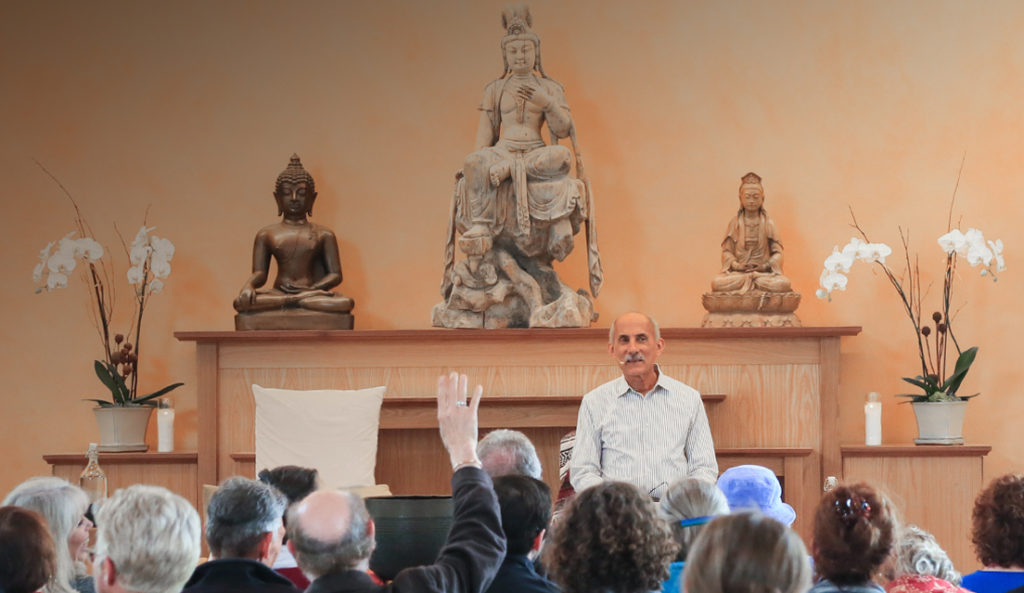 "As long as followers of the Way gather together and meet in harmony can they be expected to prosper and not decline. As long as followers of the Way care for the vulnerable among them can they be expected to prosper and not decline. As long as followers of the Way tend the sacred places in their environment can they be expected to prosper and not decline." ~ MahaParinirvana Sutra
Dear Friends in the Dharma,
This is a critical time in American society. As Buddhist teachers and leaders we recognize the importance of all who are eligible to participate in decisions that affect the well being of the whole. A mutual caring community is one of the central teachings of the Buddha.
Many have wondered what you can do at this divisive time. Across the country, tens of millions of eligible voters do not cast their vote – often because they don't believe their voice matters!
We are joining together with Faith In Action, a NON PARTISAN group of churches, mosques, synagogues and faith communities to help make sure all who are eligible are supported to vote.
We joyfully encourage all in our communities who can help in these weeks ahead to connect with Faith in Action by clicking this LINK. There you will find support and training so that in your area you can help get people out to vote.
Express your commitment and respect for the innate dignity and worth of all. Help to empower the voice of the whole community as a truly important contribution.
You can really make a difference! Please join us.
With loving kindness, compassion and blessings,
Yours in the Dharma,
Jack Kornfield
Sharon Salzberg
Joseph Goldstein
Zoketsu Norman Fischer
David Loy
Sayadaw U Vivekananda
Lama Surya Das
Lama Palden Alioto
Thanissara & Kittisaro
Trudy Goodman
Bob Thurman
William Aiken
Chozen & Hogen Bays
Rev. Bup Hee
Lama Willa Miller
Oren Jay Sofer
Marcia Rose
Neesha Patel
Tara Mulay
Rodney Smith
Pamela Weiss
Sharda Rogell
Kamala Masters
Jill Shepherd
Bonnie Duran
James Baraz
Devin Berry
Anna Douglas
Spring Washum
Carol Wilson
Larry Yang
Kate Lila Wheeler
Susie Harrington
Wes Nisker
Eugene Cash
Chris Crotty
Dawn Mauricio
Gulwinder S. Singh
Tempel R. Smith
Parwan Bareja
Phillip Moffitt
Noliwe Alexander
Andrea Castillo
Tere Abdala
Andrea Fella
Jim Willems
Mitchell Ratner
Eiko Joshin Carolyn Atkinson
Karl Brunnholzl
Kate Johnson
Melissa Myōzen Blacker, Rōshi
Arinna Weisman
Jules Shuzen Harris Sensei
James Myosan Cordova, Sensei
Alexis Santos
Rev. Edward Keido Sanshin Oberholtzer
John Tarrant, Roshi
Kanzan Bruce Fortin
Thanissara
Jundo Cohen
Pamela Ayo Yetunde
Gyokuko Carlson
Rev. Ronald Kobata
Tara Brach
Wendy Egyoku Nakao
Gil Fronsdal
Kenjitsu Nakagaki
Bhante Katugastota Uparatana Nayaka Thera
Sylvia Boorstein
Sojun Mel Weitsman
Judy Lief
Hozen Alan Senauke
Gina Sharpe
Konda Mason
Dharmacarani Vimalasara
Barbara Gates
Bhiksuni Thubten Chodron
Jeff Haozous
Mary Grace Orr
Lama Döndrup
Howard Cohn
Pat Berube, Lama Pat
Lama Stephen Gross
Leslie Booker
Matthew Brensilver
Kate Johnson
Diana Winston
Debra Chamberlin Taylor
Lynn Weinberger
Erin Treat
Erin Selover, MS
Shastri Nick Kranz
Madeline Klyne
Daniel Rothberg
Devon Hase
Chris Cullen
Melvin McLeod
Adin Strauss
Furyu Schroeder
Annik Brunet
Rev. Tenzen David Zimmerman
DaRa Williams
Gregory Scharf
Anne Cushman
Valorie Hutson
Ruth King
Karen Maezen Miller
Rev. James Ishmael Ford
Rev. Sumi Loundon Kim
Ed Sattizahn
Karma Lekshe Tsomo
Rev. Grace Schireson
Sensei Koshin Paley Ellison
Sensei Chodo Campbell
Jisan Tova Green
Rev. Rosan O. Yoshida, Ph.D.
Layla Smith Bockhorst
Eihei Peter Levitt
Rebecca Li
Myogen Kathryn Stark
Narayan Helen Liebenson
Flint Sparks
Harrison Blum
Sebene Selassie
Shaku Kengu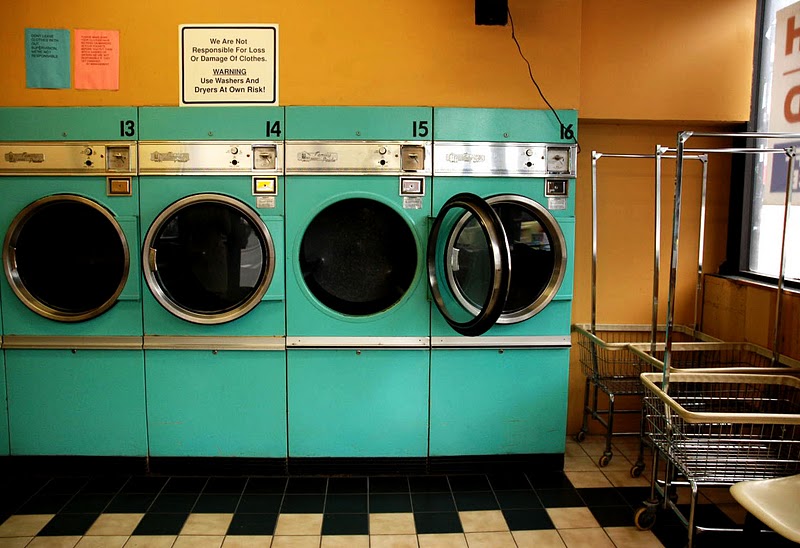 For those who have not yet seen the announcement published Aug 27 in Tricycle magazine:
Against the Stream Closes Doors as Investigation Finds Misconduct by Founder Noah Levine
Following a months-long investigation into allegations of sexual misconduct, the Against the Stream Meditation Society (ATS) has removed its founder, Noah Levine, from their board of directors and from his teaching responsibilities, the organization said in a statement sent out on August 25. As a result of the investigation and the controversy surrounding it, the California-based ATS said it will also be closing its meditation centers.
While the independent investigation, conducted by attorney Roberta Yang at the request of ATS, did not determine if Levine had committed any criminal offenses, it did find that Levine likely broke ATS rules—specifically "the Third Precept of the Teacher's Code of Ethics, namely, 'to avoid creating harm through sexuality,'" the statement says. [click here to read the full announcement]
***
Noah was a very popular "new generation" teacher in the Western Insight tradition. I sat with him several times in Yucca Valley, at retreats led by Jack Kornfield, and I liked him a lot. So this news disappoints me tremendously.
But I am glad, since this is the situation, that it has come to light and is being taken seriously. With urgency. And with real consequences. (The LA police department has also opened an investigation.)
No one is immune.
May we continue to hold each other accountable.
And with compassion.
May all beings be free from suffering.
And the causes of suffering.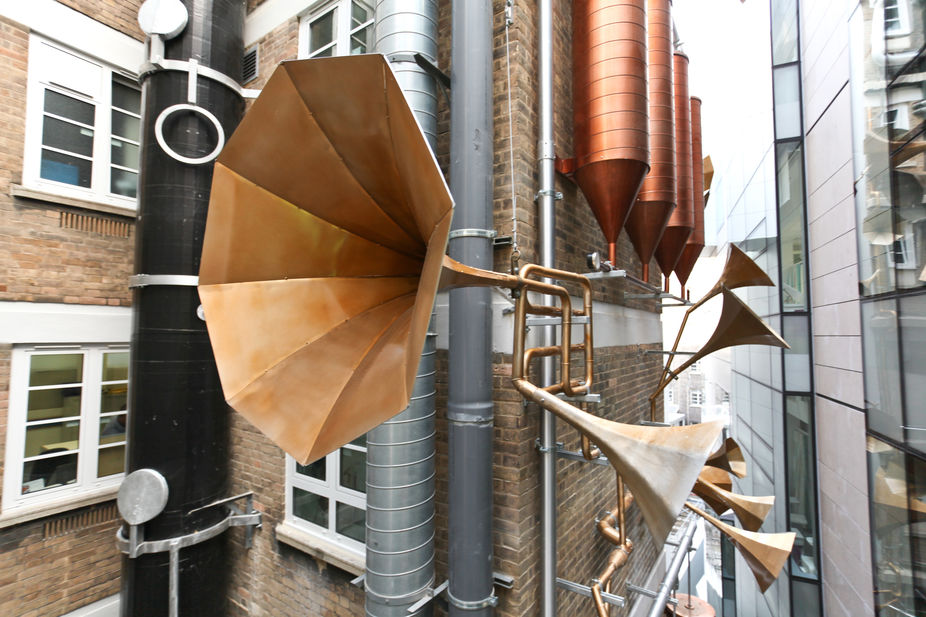 I just finished my first ever Tiny Retreat and it was great!
What's a Tiny Retreat? It's a half-day, at-home, sitting-and-walking practice that I have committed to doing once a month — 8:00 am to 12:00 noon (Central Time) on the last Friday of every month (schedule permitting). I posted about why I'm doing it here.
Part of what why it was so great today was that even though I was here at home, doing sitting and walking meditation all by myself, I wasn't really doing it all by myself because I know that at least one of my Dharma buddies was at her home, also doing sitting and walking meditation, at the same time, with the intention of deepening her practice, and of doing it with me.
AND there are a couple more Dharma buddies of mine who have committed to doing it with me, too!
Want to join us? The next one is June 29, 8:00 am to 12:00 noon Central Time. Even if you can't do on that date or at that time, how about doing it that evening, or the next day, or the day after that ???? Let me know and I'll make a special point of sending blessings to you. We could even check in on how it's going, if you'd like. (Email me here.)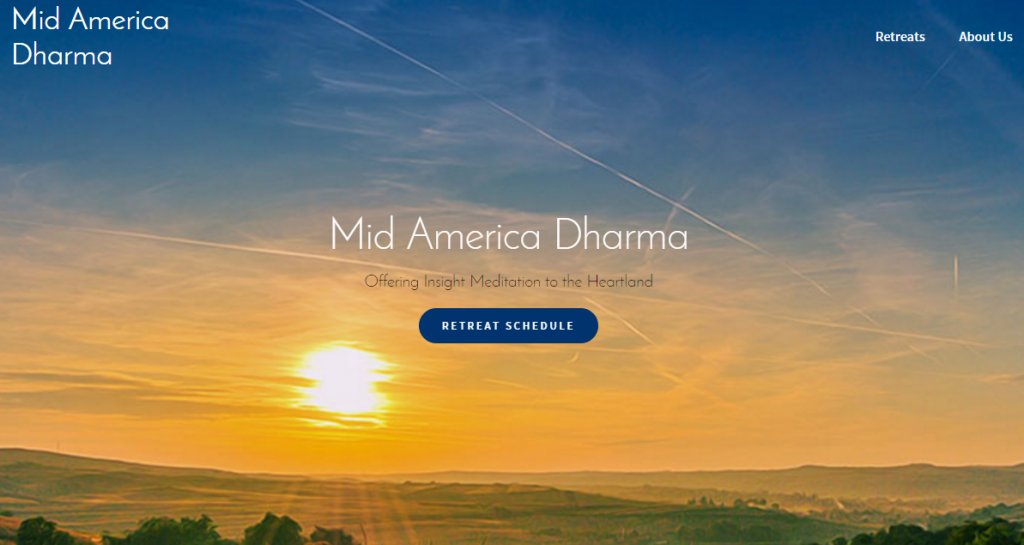 The new Mid America Dharma website (that I've been art directing, shepherding, arm-wrestling over and putting my heart into for more than a year now) is UP and RUNNING!!!! There will be an official announcement sent by email tomorrow to the greater MAD sangha. But I just couldn't keep it a secret. Check it out!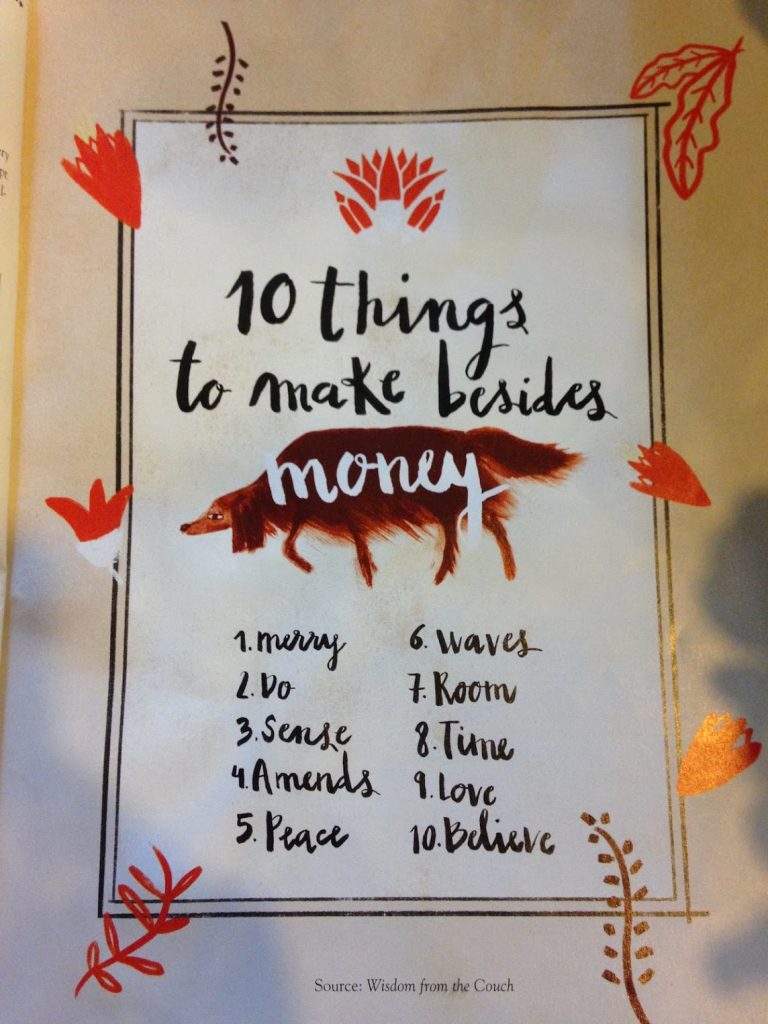 One more bow to Tsu-Yin for this image, which she found in a magazine during her "visa run" to Cambodia.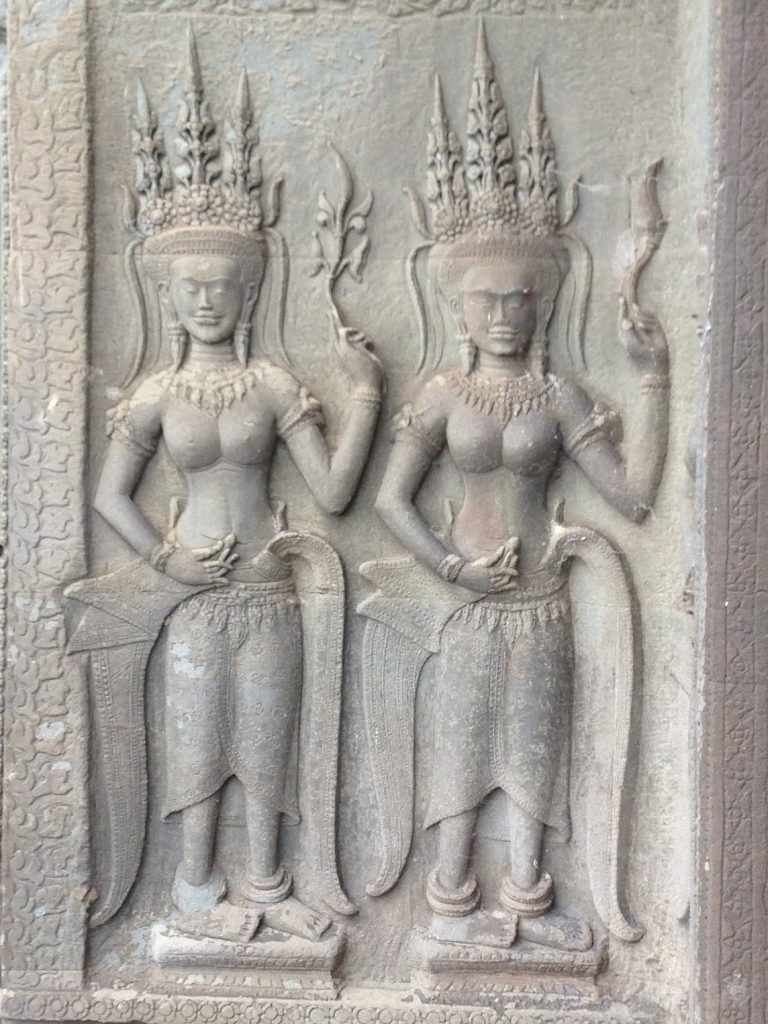 Last night I got a great email from one of my CDL (Community Dharma Leader) colleagues, Tsu-Yin, who has been practicing at various monasteries in Burma and Thailand for the past year. She included a link to some of her photos and a "Record of Mundane Thoughts"  — notes to herself that she kept over much of that time (quite a lot of which was spent at U Tejaniya's monastery where I stayed for a couple of weeks back in 2014).
So reading it was quite a sweet little memory trip for me and an inspiration, too, as I start to prepare for my 2-month retreat at Spirit Rock (Jan 28-Mar 25).
With deep bows to Tsu-Yin, here are just a few of her not-exactly-mundane "Mundane Thoughts":
* Enjoyment and agitation are opposite ends of the same stick. Think you can take only the delightful and leave the hideous? Impossible! You pick up the stick, you're stuck with both. You must put down the stick. GO BEYOND THE STICK.
* Happiness —> Concentration
* Good news is that when we keep still, samadhi comes on its own, because it was never something outside of us. Can't even go out and buy it in a store– it's free!
* Everything is part of waking up. Every act without attachment. But you wake up at the speed you wake up. Recognize that, and you're golden.
* Is Row Row Row Your Boat some sort of Song of Enlightenment?! I can't be the first to have wondered this.
***
Sadhu. Sadhu. Sadhu.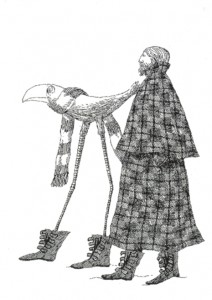 Today is my last day of work — of paid work, I should say. I am retiring and my office gave me a great party yesterday, which was a lot of fun, and of course the inevitable question came up: What are you going to do?
I have a DPP friend, a physician in her 40s I'm guessing, who recently quit her practice for a variety of reasons, none of which are easy to explain but mostly, I suspect, having to do with not being able to do what she feels like needs to be done. When people asked her the "What are you going to do" question, she answered with: "I am going to walk outside."
I love that.
Partly because that is, literally, what she's been doing every day since she retired (which she had almost never been able to do while she was employed). And because it suggests getting "outside the box" for a fresh approach, a fresh outlook…and some fresh air!
So that's what I'm going to do, too.
I'm going on the 6-week retreat in September, and to Burma in January, and I'm going to keep doing all the Dharma Town stuff in between. But maybe even more important that that — as often as possible, I'm going to walk outside.
(image by Edward Gorey)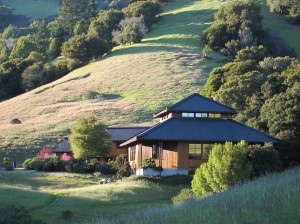 While I was away I received news that my DPP friend, Steve Young, who suddenly feel ill last month, passed away early on the morning of August 1. Steve was one of the resident caretakers at Spirit Rock. I am told that the staff there held a beautiful ceremony in which they rang the meditation bell in his honor 108 times.
All conditioned things are impermanent
Their nature is to arise and pass away.
To live in harmony with this truth,
Brings true happiness. 
I dedicate the merit of my practice during this month for the benefit of Steve, and for all beings, everywhere.