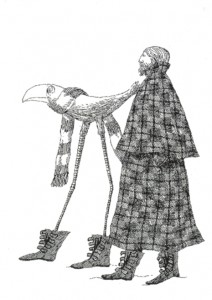 Today is my last day of work — of paid work, I should say. I am retiring and my office gave me a great party yesterday, which was a lot of fun, and of course the inevitable question came up: What are you going to do?
I have a DPP friend, a physician in her 40s I'm guessing, who recently quit her practice for a variety of reasons, none of which are easy to explain but mostly, I suspect, having to do with not being able to do what she feels like needs to be done. When people asked her the "What are you going to do" question, she answered with: "I am going to walk outside."
I love that.
Partly because that is, literally, what she's been doing every day since she retired (which she had almost never been able to do while she was employed). And because it suggests getting "outside the box" for a fresh approach, a fresh outlook…and some fresh air!
So that's what I'm going to do, too.
I'm going on the 6-week retreat in September, and to Burma in January, and I'm going to keep doing all the Dharma Town stuff in between. But maybe even more important that that — as often as possible, I'm going to walk outside.
(image by Edward Gorey)