Browsing Category "Sangha at Large"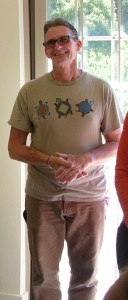 I just got word that one of my fellow Dedicated Practitioners, Steve Y., suffered a stroke over the weekend. An MRI was performed, which revealed advanced and terminal cancer. Preparations are being made for hospice care.
Steve is a Resident Caretaker at Spirit Rock and one of the sweetest, kindest, most tender people I've ever met.
May we all see the preciousness of each of our lives right here, right now….and may we know the truth of impermanence.
May all Beings be Peaceful.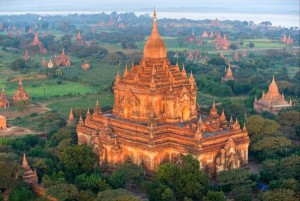 Travel plans are starting to firm up for the Dedicated Practitioner trip to Burma, which will include a 5-night stay in Bagan. Here's what Lonely Planet has to say:
Why go?
Marco Polo, who may or may not have visited on his travels, describes Bagan as "one of the finest sights in the world". Despite centuries of neglect, looting, erosion, regular earthquakes (including a massive one in 1975), not to mention questionable restoration, this temple-studded plain remains a remarkably impressive and unforgettable vision.
In a 230-year building frenzy up until 1287 and the Mongol invasions, Bagan's kings commissioned over 4000 Buddhist temples. These brick and stucco religious structures are all that remain of their grand city, with the 11th to 13th century wooden buildings having long gone.
Many restoration projects have resulted in a compromised archaeological site that can barely be describes as in ruins. Often the restorations bear little relation to the building systems and techniques used at the time of original construction. Still, Bagan remains a wonder. Working temples like Anada Pahto give a sense of what the place was like at its zenith while others conceal colorful murals and hidden stairways that lead to exterior platforms and jaw-dropping views across the plain.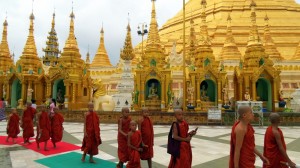 Just got the word: Tempel Smith, one of the teachers in the Dedicated Practitioner Program, will be leading a pilgrimage in Burma (Myanmar) in January….and I am going!
We will meet in Yangon on January 9th to visit the famous Schwedagon Pagoda (where Obama went after he met with Aung San Suu Kyi), travel to Bagan and Mandalay, take a ferry up the Irrawaddy River, make offerings in a monastery and school that Tempel helps support, and get to know many of his lovely Burmese friends. The formal trip ends on January 23rd, but several of us are staying in Yangon for a few more weeks to practice meditation at U Tejaniya's monastery. I think Sally Armstrong and a few other Spirit Rock teachers may join us there as well!
It is a rare and precious gift to yourself to join a group of fellow practitioners to visit the country of origin from which such powerful Buddha Dharma has come. It is even more rare to go there with a Dharma guide and teacher who can help translate the ancient forms of Dharma practice and culture in contemporary terms.
Yah-hoo!
There was a nice turnout for the Walk to Feed the Hungry on Sunday…even though it rained! Bhikkhu Bodhi was there (yay!!!) He gave a little talk about Buddhist Global Relief, which he founded, and chanted a blessing. It was lovely.
The event was sponsored by Buddhist Council of Greater of St. Louis. They've posted lots and lots of photos on their Facebook web page.
Here are a few of my favorites: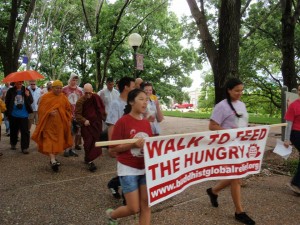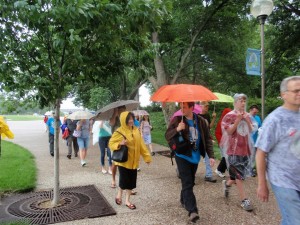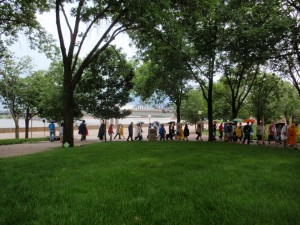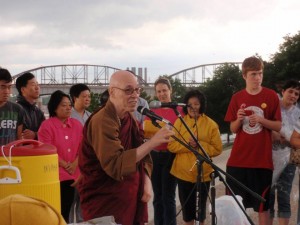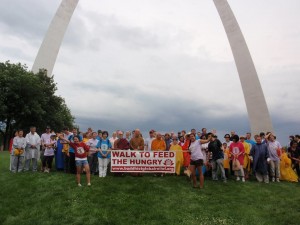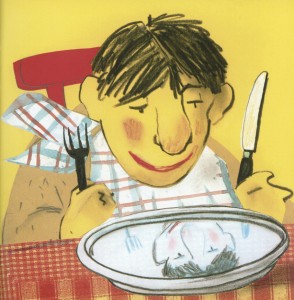 "The gift of food is the gift of life." — the Buddha
Bhikkhu Bodhi, highly respected scholar, teacher and Founder/Chairperson of Buddhist Global Relief will lead a Walk to Feed the Hungry around the perimeter of the Gateway Arch this coming Sunday, June 9, beginning at 1:00 pm.
Please join us!
Buddhist Global Relief's mission statement:
Our mission is to combat chronic hunger and malnutrition. Bearing in mind the Buddha's statement that "hunger is the worst kind of illness," we sponsor projects that promote hunger relief for poor communities around the world. We pursue our mission by:
* Providing direct food aid to people afflicted by hunger and malnutrition
* Helping develop better long-term method of sustainable food production and management appropriate to the cultures and traditions of the beneficiaries
* Promoting the eduction of girls and women, so essential in the struggle against poverty and malnutrition
* Giving women an opportunity to start right livelihood projects to support their families
We also seek to raise awareness of global hunger and advocate for an international food system that exemplifies social justice and conduces to ecological sustainability.  
(image from: A whole World, by Couprie and Louchard)
I didn't take any pictures at Sunday's Buddha Birthday Party at MABA, but I'm glad someone else did. There are TONS of them posted here.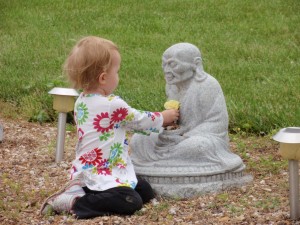 This one is my favorite.
Unfortunately, Bhikkhu Bodhi wasn't able to be at the Buddha's Birthday Celebration (Vesak Day) on Sunday at Mid-America Buddhist Association (MABA), but the day was lovely nonetheless. I was enjoying the ceremony too much to take photos…but here are some from last year's celebration (on MABA's website).
NOTE: Bhikkhu Bodhi is still planning to lead the Walk to Feed the Hungry on Sunday, June 9 and will give a Dharma Talk at the Pure Mind Center in University City on Tuesday, June 11. Check the Dharma Town Coming Attractions page for more info.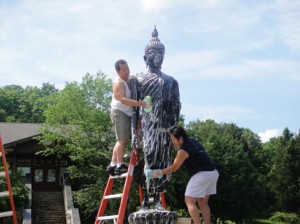 This is the Buddha statue, getting a celebratory bath.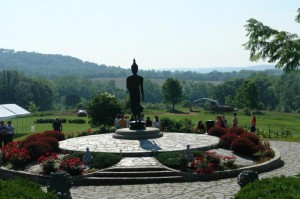 Here's the nice, clean statue looking out over the land.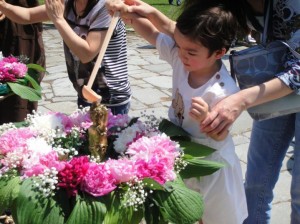 This is the ritual bathing (of the little baby Buddha statues) we all participated in.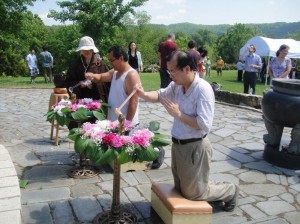 Here's more of the washing ritual.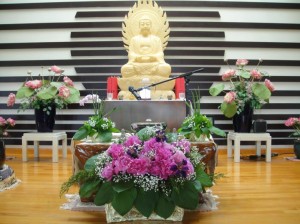 Here is the alter in the meditation hall.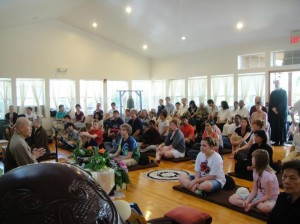 Here's the hall while a dharma talk is going on.
OK, so this is not exactly Dharma….but what the heck.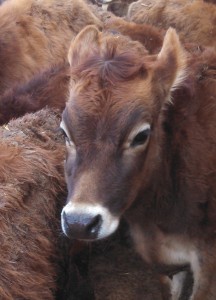 I belong to FareShares CCSA (Combined Community Supported Agriculture), which recently organized a fundraiser to help our local Marcoot Jersey Creamery buy a commercial cheese press. In return for my donation, I got a lot of very yummy garlic-and-chives cheese curds…AND the right to name one of their new baby cows!!!
Here she is.
I named her Honey.
Isn't she sweet!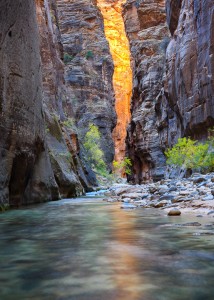 Last night at the Hi-Pointe Sitting Group, I used another of the meditations from Kamma and the End of Kamma, by Ajahn Sucitto. It's a reflective practice of "dropping" a question into the mind when it's in a meditative state….not so much to get an answer, but rather to find a deeper way to live the question.
Here are the instructions:
Establish a supportive bodily presence: a sense of uprightness, an axis that centers around the spine. Connect to the ground beneath and the space above and around the body. Acknowledge sitting within a space, taking the time and space that you need to settle in.
As you settle, let your eyes gently close. Attune to the bodily sense through feeling the breathing: first in the abdomen, allowing the breath to descend through the soft tissues…feel the flexing of the breath mirrored by the effortless release and firming of the abdomen in respiration.
As you come to a sense of balance, bring to mind a current situation in your life. It may well be the case that if you ask yourself: "What's important for me now?" or "What am I dealing with now?" a meaningful scenario will come to mind. It could be about something at work, or to do with your close friends or family, your well-being or your future. Just get the overall impression of that, without going into the full story….Try to catch and distill the emotive sense: burdened, eager, agitated, or whatever.
As it becomes distinct, feel the energy, the movement of that (even if you can't quite put it into words). Keep triggering that affect by bringing the scenario to mind until you feel you have the tone of that.
Then contemplate that affect in terms of the body. Notice whether, for example, you feel a flush in your face or around your heart, or a tightening in your abdomen, or a subtle tension in your hands or jaw or around your eyes….Whatever it is, create an attentive space around the experience: can you be with this for a little while?
Let the awareness of the "being with" fully feel the tone of that experience. It may settle into an image–such as a bright stream, or something dark and heavy, or something twisted and stuck. Ask yourself: "What does this look (or feel) like, right now?"
Then, as you settle with it for a few seconds, bring up the question: "What does this need?" or "What does this want to do?"
Follow with attention anything that happens to that sense of reaching out, or sinking back or tension. Notice if other parts of your body are affected….Be with the enlarged experience, noticing any changes in the emotive sense.
Carefully repeat this with that aspect of your world until you feel that something has shifted in your response, or that has given you a key to deeper understanding.
Return through the body: the central structure and the softer tissues wrapped around that, the skin around that, the space around all that. Slowly open your eyes, attuning to the space, and the sense  of the place that you're sitting in.
(image from my DPP buddy, Tony Siciliano, taken at Zion National Park)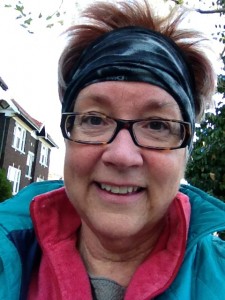 One of the many best things about being part of this Dedicated Practitioner Program is the amazing group of people I'm getting to know. For example, I was invited to spend the night before the retreat at the San Francisco home of Tony and Maggie. (Tony is a current DPP-er and Maggie completed the program a few years ago.) When I arrived, David (another DPP-er) was already there, and as we were talking, he just happened to mention that he had spend the last month walking the Camino de Santiago.
That's a 500-mile walk across Spain! 
And then just as I was saying how awesome I thought that was, and how I had once thought about doing it, but had decided it was just not realistic….Tony said that HE had ALSO walked it. Twice!
And then later, at one of our DPP small-group lunches, I mentioned my astonishment that David had walked the Camino and then Leahe (another DPP-er) said that a friend of hers….a friend about my age AND my SHAPE…had also just finished walking it. And then Carolyn (my weekly check-in DPP Buddy) said that SHE had always wanted to walk it, and that maybe if I were going to be doing it…..
Well OK then.
I'm going to do it!
Not next year, because believe it or not, next year is already pretty much booked. And besides, much preparation…including some serious training….will need to be done.
But the year after that, I'm doing it.
And in the mean time….
I've been out walking!