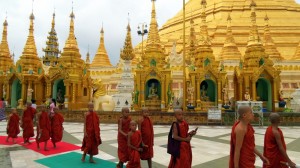 Just got the word: Tempel Smith, one of the teachers in the Dedicated Practitioner Program, will be leading a pilgrimage in Burma (Myanmar) in January….and I am going!
We will meet in Yangon on January 9th to visit the famous Schwedagon Pagoda (where Obama went after he met with Aung San Suu Kyi), travel to Bagan and Mandalay, take a ferry up the Irrawaddy River, make offerings in a monastery and school that Tempel helps support, and get to know many of his lovely Burmese friends. The formal trip ends on January 23rd, but several of us are staying in Yangon for a few more weeks to practice meditation at U Tejaniya's monastery. I think Sally Armstrong and a few other Spirit Rock teachers may join us there as well!
It is a rare and precious gift to yourself to join a group of fellow practitioners to visit the country of origin from which such powerful Buddha Dharma has come. It is even more rare to go there with a Dharma guide and teacher who can help translate the ancient forms of Dharma practice and culture in contemporary terms.
Yah-hoo!