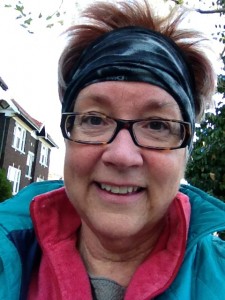 One of the many best things about being part of this Dedicated Practitioner Program is the amazing group of people I'm getting to know. For example, I was invited to spend the night before the retreat at the San Francisco home of Tony and Maggie. (Tony is a current DPP-er and Maggie completed the program a few years ago.) When I arrived, David (another DPP-er) was already there, and as we were talking, he just happened to mention that he had spend the last month walking the Camino de Santiago.
That's a 500-mile walk across Spain! 
And then just as I was saying how awesome I thought that was, and how I had once thought about doing it, but had decided it was just not realistic….Tony said that HE had ALSO walked it. Twice!
And then later, at one of our DPP small-group lunches, I mentioned my astonishment that David had walked the Camino and then Leahe (another DPP-er) said that a friend of hers….a friend about my age AND my SHAPE…had also just finished walking it. And then Carolyn (my weekly check-in DPP Buddy) said that SHE had always wanted to walk it, and that maybe if I were going to be doing it…..
Well OK then.
I'm going to do it!
Not next year, because believe it or not, next year is already pretty much booked. And besides, much preparation…including some serious training….will need to be done.
But the year after that, I'm doing it.
And in the mean time….
I've been out walking!