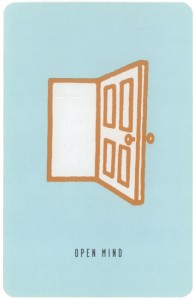 Check out Krista Tippet's Investigating Healthy Minds interview with neuroscientist Richard Davidson, aired Sunday in  St. Louis on Public Radio and available on podcast here.
In her newsletter discussing the interview, Tippet writes, "The groundbreaking neuroscientist Richard Davidson has revealed a surprising give and take between emotions, behavior, and biology at every age. He made his discoveries by studying the brains of meditation Buddhist monks. Now, he's testing new approaches to autism and ADHA — even to nurturing kindness and self-reflection in children and adolescents."
Thanks, Janet, for sending this info!
(image from Q-cards by Zolo inc.)