I've been reading — and loving —  Phillip Moffitt's new book, Emotional Chaos to Clarity: How to Live More Skillfully, Make Better Decisions, and Find Purpose in Life. I've just finished Chapter 2, "Getting to Know the Real You," where he first goes through a list of who-you-are-not's:
* You Are Not Your Emotions
* You Are Not Your History
* You Are Not Your Responsibilities or Your Habits
* You Are Not Your Public Personna
* You Are Not Your Ego
* You Are Not Your Private Self
It's a wonderfully fresh, down-to-earth, easy-to-understand explanation of what the Buddha meant by "not self." For example, Phillip writes, "I don't mean to imply that your thoughts, emotions, and sensations aren't real. Rather I'm suggesting that your awareness of them does not constitute your essence or reflect your core values."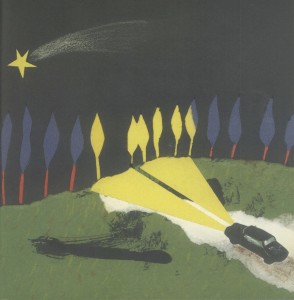 I especially like this analogy:
"To better understand the distinction between your private self and your authentic self, imagine that your life is like a road trip. Your inner identity is the ideal traveling companion to be seated next to on this journey because its thoughts and emotions provide depth, texture, and authenticity.
"But that doesn't mean you should allow it to drive the car. It might, on an impulse, drive straight off a cliff!
"The more skillful driver to sit behind the wheel is your authentic self, which knows your deepest intentions."   
(image from "A Whole World," by Katy Couprie and Antonin Louchard.)