Browsing Category "Art"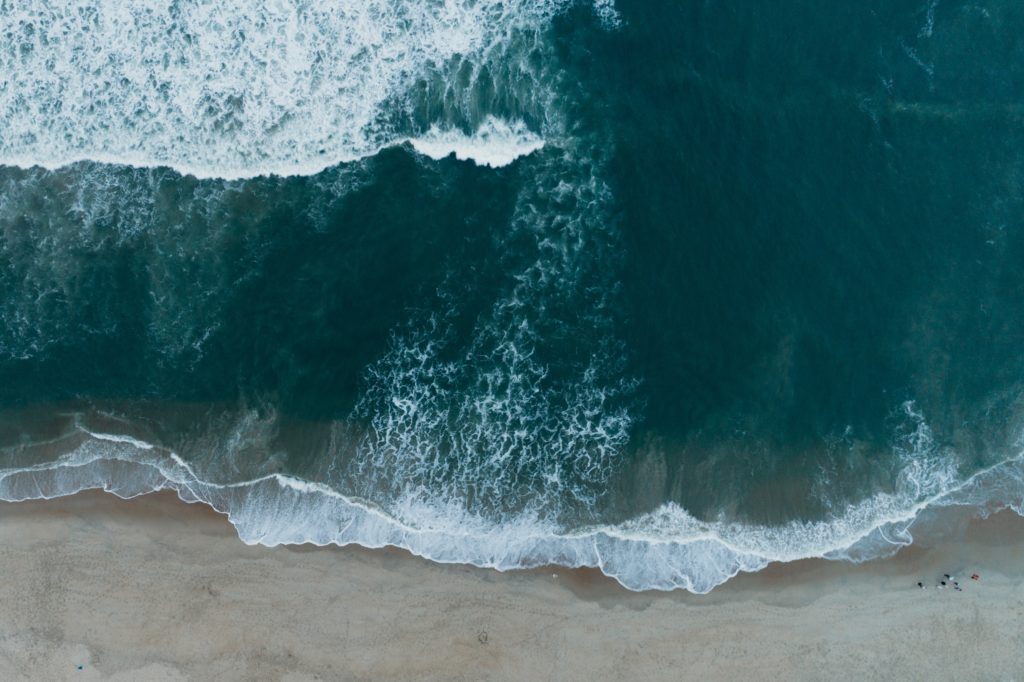 Today I find myself reflecting on this passage, which came into my mind seemingly at random, from A Month in Siena, by Hisham Matar:
"We wandered into the Accademia Musicale Chigiana and stood looking up at the beautiful decorations on the ceiling of its courtyard. Through the use of false perspective a flat surface had been made to look like the inside of a dome with carved borders. Diana, who is a photographer, said that maybe what an artist wants — not only the one who painted this fresco but perhaps every painter and photographer across time — is to make a flat surface give way, to open up a space. As she said this, I pictured a man literally enter and escape into the fresco.
"We left and walked through the street. Each drew its own shape. We talked about Islamic sacred patterns and how looking at them alone, being lost in their interlocking lines and formations, some believed, was like a prayer.
"I thought it was odd that we should speak about this, as this was not a topic we often talked about. I then told her about how, growing up, I had a sensitive and quiet teacher who was unusually frugal with his words, but who told me once that, to him, looking at nature — staring at the sea, for example — was equivalent to praise."
***
Photo by Nathan Anderson on Unsplash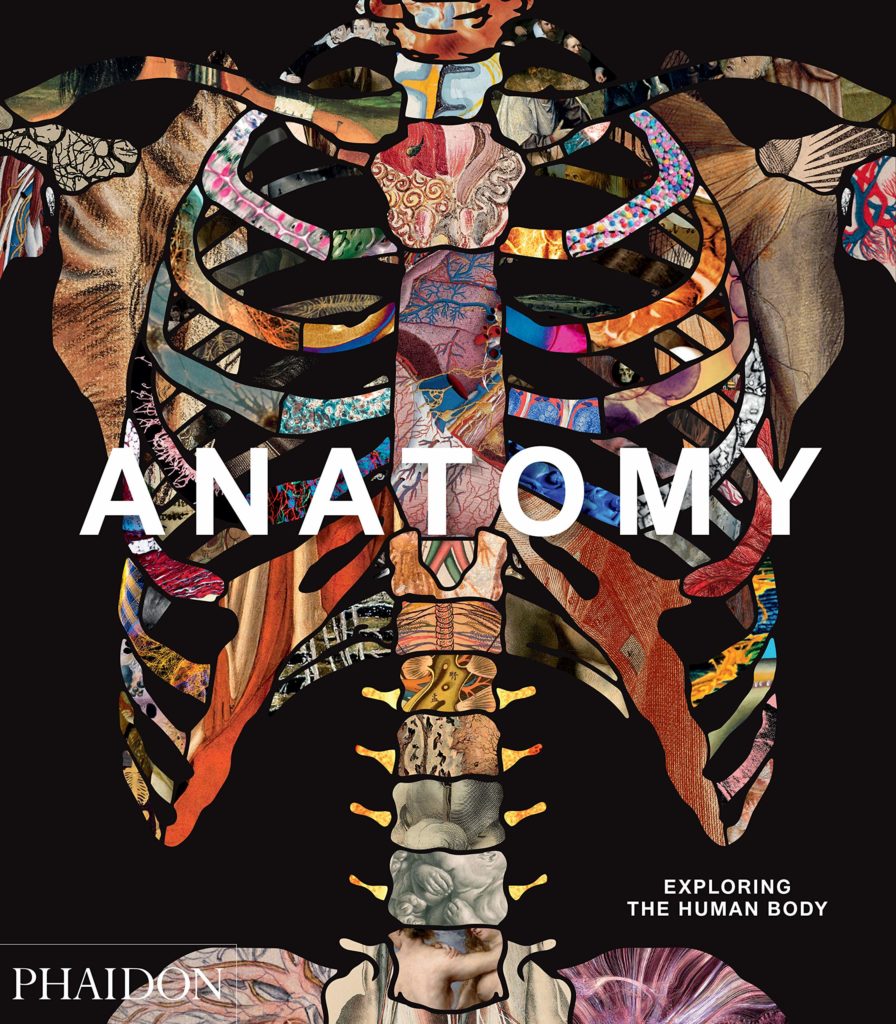 In preparation for the March retreat I'll be attending at Spirit Rock (and as part of my training in the Nine Bodies practice), my meditations this week have focused entirely on becoming more fully conscious of the Physical Body.
As a supplement to that, I've also "meditated" on this gorgeous new art book from the editors at Phaidon — Anatomy: Exploring the Human Body — an awesome display of just some of what we have come to know, and how we have come to think, about the human physical body.
(Gray's Anatomy, this is not.)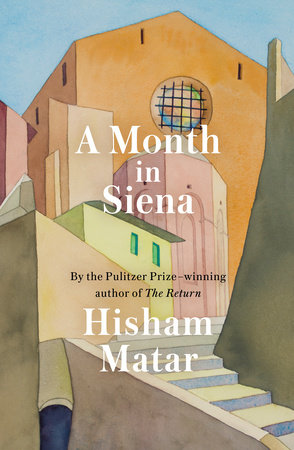 Yesterday I started reading A Month in Siena, by Hisham Matar, and I'm already loving it so much that I'm feeling a little giddy! Not just because there was a time when I spent quite a lot of time in Siena, but also because he writes about looking at the same piece of art, over and over, for an hour or more each time, which is what I do when I really want to "see" a piece of art.
Matar says, "A picture changes as you look at it and changes in ways that are unexpected. I have discovered that a painting requires time. Now it takes me several months and more often than not a year before I can move on. During that period the picture becomes a mental as well as a physical location in my life."
It's like that for me too!
Matar is fascinated is with certain works from the Sienese School of painting. He writes, "I cannot say that they gave me pleasure. Yet I kept, almost against my own intentions, returning to them. I would often look and quickly pass. They left me feeling unprepared and in need of translation. They stood alone, neither Byzantine nor of the Renaissance, an anomaly between chapters, like the orchestra tuning its strings in the interval.
"This curiosity has deepened over the past two and a half decades. The colors, delicate patterns and suspended drama of these pictures gradually became necessary to me. Every few months I go to the National Gallery in order to look once more at Duccio di Buoninsegna's The Annunciation or The Healing of the Man Born Blind.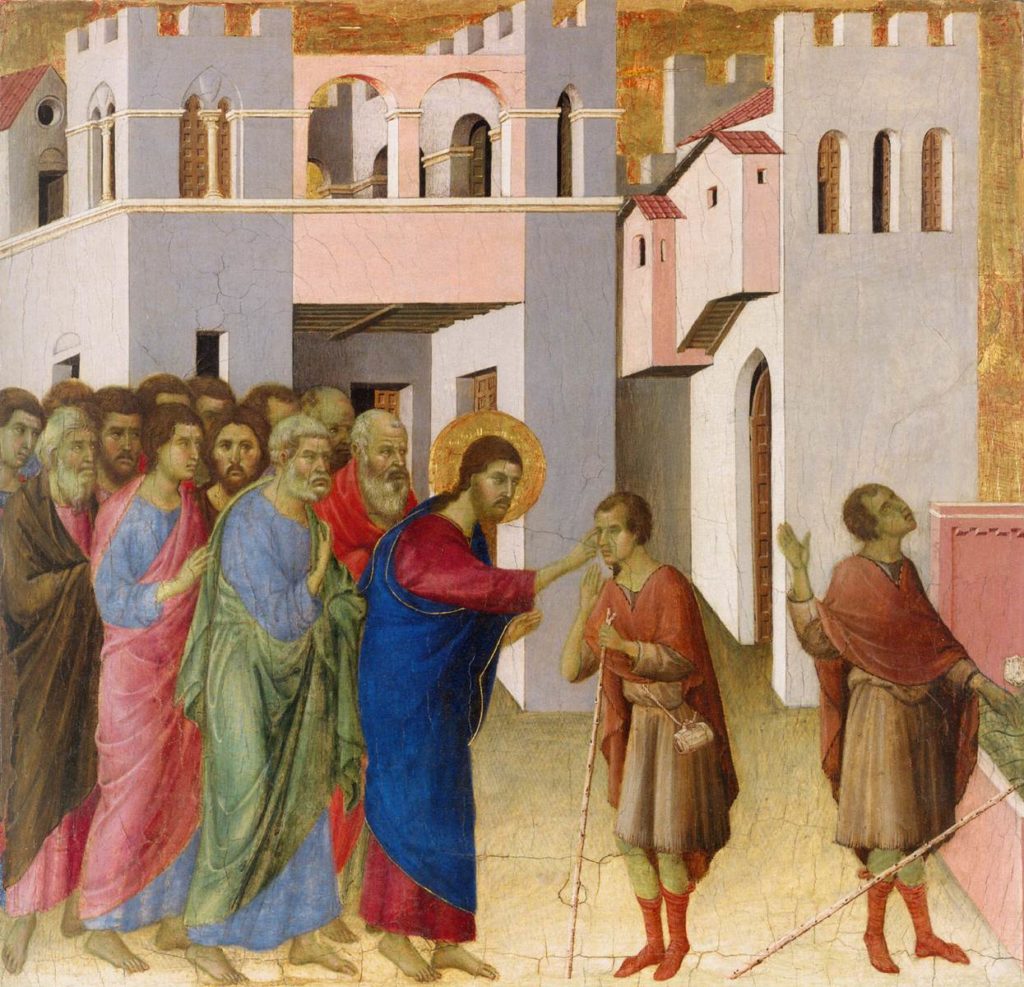 "The seeing, who include Jesus, his audience and the version of the blind man now healed, sedately occupy the lower half of the painting. They are contrasted by the playful and brightly crisp activity in the upper half of the picture, where a hopscotch of arches and windows, peering into empty spaces, stare openly. They seem to be deliberately leading one's gaze away from the human activity below.
"It is in that direction, upward, that the second representation of the blind man, the one still visually impaired, is facing. It is a painting that is questioning and ironic about what it might mean to truly see. It is not definite about the answer. It has always, and throughout all the many years that I have been returning to The Healing of the Man Born Blind, seemed to be a space of doubt.
"If I am away from London for any significant period of time, there inevitably comes the moment when I must search in the local museums for something from the Sienese School…
"To look closely at their work is to eavesdrop on one of the most captivating conversations in the history of art, one concerned with what a painting might be, what it might be for, and what it could do and accomplish within the intimate drama of a private engagement with a stranger."
Ah, another mystery!
***
The Healing of the Man Born Blind, by Duccio di Buoninsegna, courtesy of The National Gallery, London.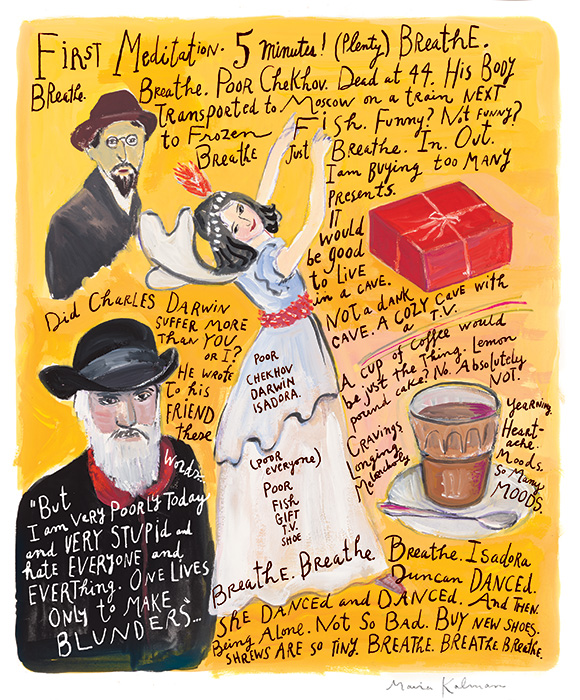 (Illustration/text by Maira Kalman, who sat a 3-day silent retreat at IMS in 2013 and then drew/wrote about the experience for Mindful magazine.)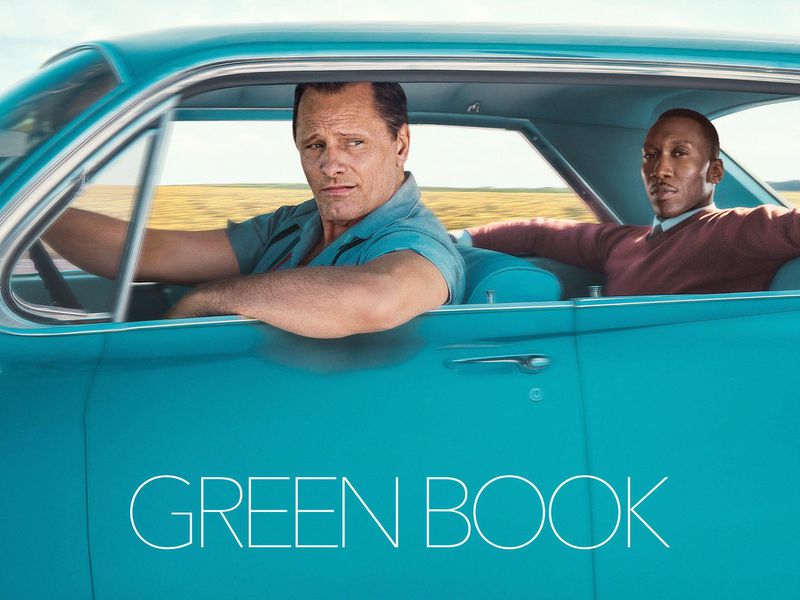 Yesterday the members of one of the Waking Up to Whiteness anti-racism groups I've working with went together to see Green Book, which I had thought would be difficult-to-watch-but-"good-for-me" — but which turned out to be NOT-difficult-to-watch (yet also not sugar-coated) and not just a "good experience" for me, but a WONDERFUL MOVIE for just about everyone!
Here's the synopsis, which is based on a TRUE story: "Dr. Don Shirley is a world-class African-American pianist who's about to embark on a concert tour in the Deep South in 1962. In need of a driver and protection, Shirley recruits Tony Lip, a tough-talking bouncer from an Italian-American neighborhood in the Bronx. Despite their differences, the two men soon develop an unexpected bond while confronting racism and danger in an era of segregation." 
AND it's got a Christmas-Eve ending!
GO SEE IT.
(Click here for the official trailer.)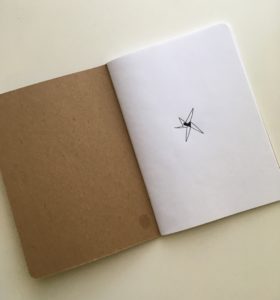 For those who might wonder if maybe I don't ever do anything other than meditate (and write blog posts), today I want to share with you a different kind of project, which I'm also immersed in. (Although it too is somewhat of a meditative undertaking!)
I've joined The Sketchbook Project  — a world-wide community of over 70,000 artists designed to "nurture community-supported art projects that harness the power of the virtual world to share inspiration in the real world."
So now I'm working on filling up one of the Project's standard-issue sketchbooks with drawings that resonate for me on the theme: This One Thing.
And when it's finished (it's due Feb 15), it'll become one of more than 40,000 on display — and available for check-out — at the Brooklyn Art Library!
The photo above is the first page of the sketchbook.
Here's another page, about half-way through the book: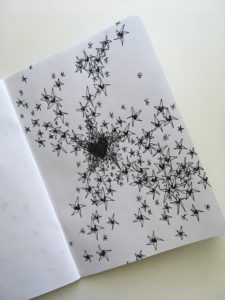 Here's the page I'm working on now: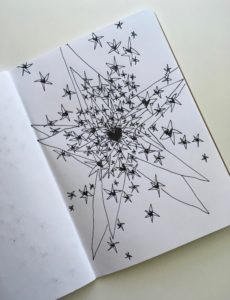 There are still four more pages to go. Stay tuned!
It's a long story, but just let me say: I am thrilled to announce that this fabulous Buddha statue, which used to reside at MacroSun (on Washington Avenue), has now come to live at my house (in Dogtown). I am SO HAPPY. And now that I've got such an auspicious space to meet, I'm going to starting working on organizing a new dharma discussion and study group! Stay tuned.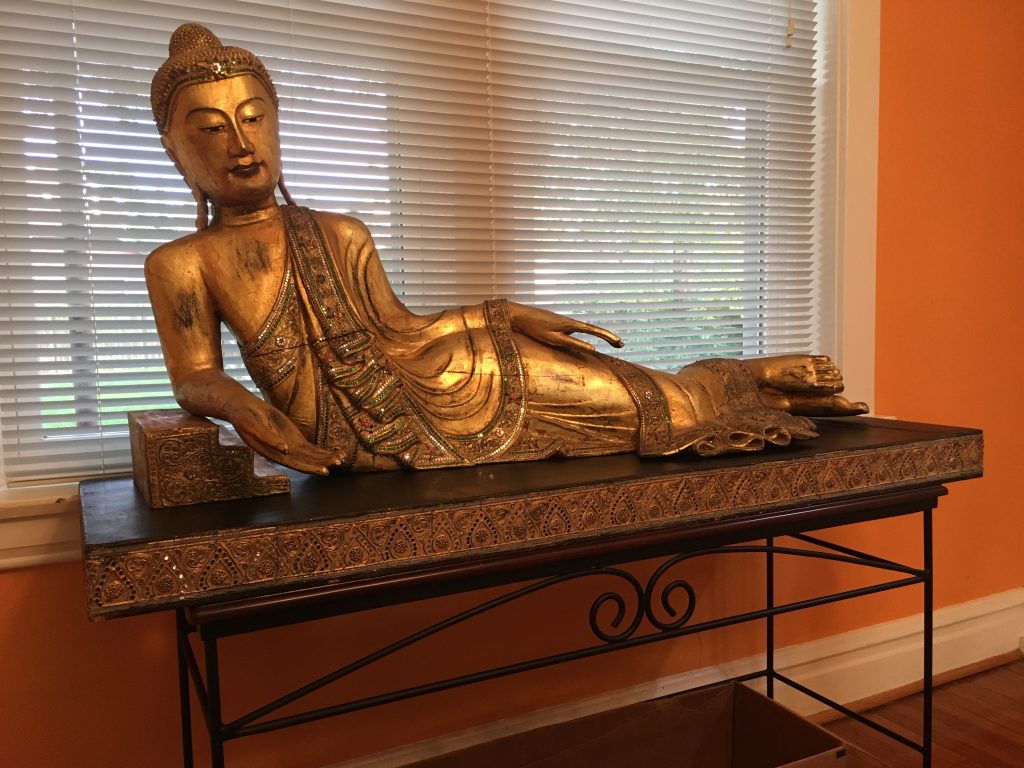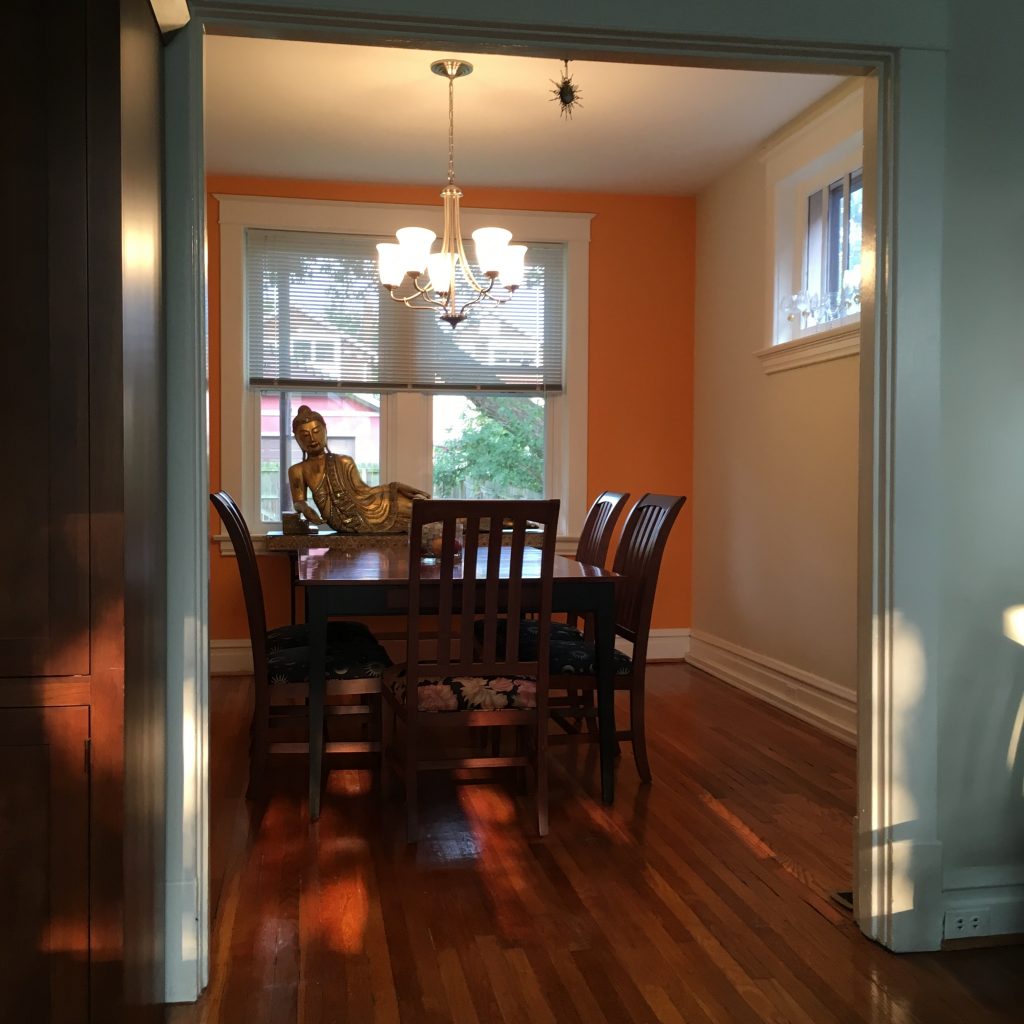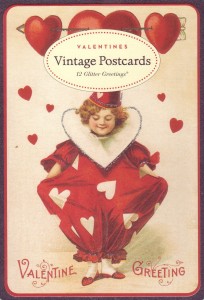 To all you Citizens of Dharma Town…by which I mean anyone who has ever read DharmaTown Times, or checked out the Neighborhood Sitting Groups, stopped in at Cinema Nibbana for a preview of Coming Attractions, pulled up a seat at Cafe Sangha, browsed through the offerings at Dharma Town Library or visited any of our other fine local establishments….. I just want to say: I love you guys!!!!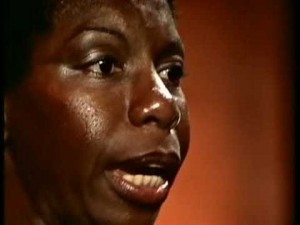 OK, so now I'm ready to talk about it…and I just want to say that the CDL training retreat was awesome.
To give you a taste, take a minute (actually 6 minutes and 12 seconds) to watch/listen to this You Tube video of Nina Simon singing/playing…teaching the dharma!….live at Montreau in 1976. It's a video that one of the CDL teachers (Gina Sharp) played for us as part of our training. (And which Gina has played….all by itself, with nothing added — because nothing is needed! — as a dharma talk.)
Check it out! Click here.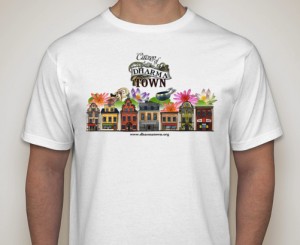 When I started this Dharma Town website, I planned to have t-shirts made up with "Citizen of Dharma Town" and the town graphics and then to offer them for sale to friends, sangha members, blog followers, etc. I made one for myself and for a couple of people who asked for them, but I never got around to promoting the idea — until now!
Here's what they look like. They're printed full color on pre-shrunk, 100% organic cotton, 4.5 oz Anvil brand t-shirts. Available in lots of sized, but the only ones I will have on hand are M, L, XL. Cost is $25. Plus postage, if I need to send it out of town.
If you'd like one, send me an email here.