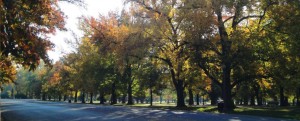 One of our Maplewood Metta sangha members, Cindy Brinkop, has started a new sitting group. It's called Sitting in the Park and that's just what they do!
I've listed them on the Neighborhood Sitting Groups page, but I wanted to highlight them here because I think it's so cool.
When: Every Saturday morning through October (weather permitting), 8:30 to 9:00 am
(Beginners requesting instruction are invited to arrive at 8:15)
Where: Tower Grove Park, just west of the Farmer's Market (on the Kingshighway side)
Look for the Tibetan Prayer Flags! (And bring a waterproof mat or cushion.)
For more info, contact Cindy.