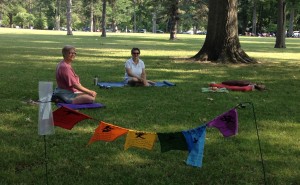 Need a reason to get up and get out of bed on a Saturday morning? Come join "Sitting in the Park," a newly formed meditation group that…well….sits in the park!
When: Every Saturday morning, weather permitting, from now through October.
Where: Near the Farmer's Market in Tower Grove Park.
What time: 8:30 to 9:00 am. No dharma talk. Just sitting. (Beginners who would like instruction are invited to come at 8:15am.)
Photo: Shown here are Jan and Nina. Cindy, who leads the group, is taking the photo. 
1 Comment