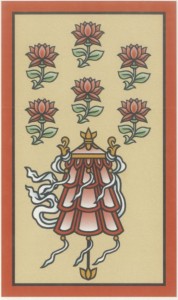 I went to see Lama Lodru last night at Blue Lotus Dharma Center and enjoyed all the "bells and smells," as they liked to say in the High Episcopal Church I used to attend. I loved lining up for the Lama's arrival, the white scarves, the bows, the incense, the cushy platform and the fancy umbrella with the dangling hearts they had set up behind it.
I wish I had taken a photo, but it just didn't feel right to pull out my iPhone in the middle of all that.
The talk itself was pretty basic. And repetitive. But I liked how he answered people's questions at the end. Kindly. Reasonable. And with a real sense of trying to help.
Overall: an uplifting evening.
Lama Lodru Rinpoche will be at The Healing Arts Center tonight and tomorrow morning. (info here) If you're thinking you might like to go…..just do it!
(image from Buddha Tarot by Robert M. Place)