Browsing Category "Chanting"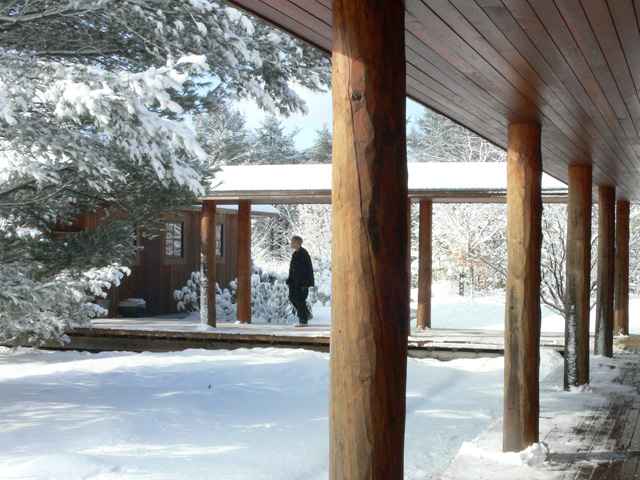 From December 27 though January 31, I'll be on a 5-week personal retreat at the Forest Refuge in Barre, Massachusetts. There'll be experienced teachers on site for guidance during that time (primarily Winnie Nazarko and Annie Nugent), but there won't be a formal retreat structure, which means no set schedule for practice, no morning instructions, and no nightly dharma talk.
This will be a beautiful way to spend my birthday (Dec 30), New Year's Eve, New Year's Day, and a full month after that. It will also be an extraordinary chance to develop and strengthen the inner resources I've been cultivating as a result of my practice.
So, I've been giving a lot of thought to what I want to "take with me" when I go on this retreat. Not how many pairs of underwear and how much dark chocolate I'll need to get me through the 5 weeks (I've pretty much worked all that out on previous retreats), but what else can I bring that will truly sustain and feed me?
I know that what has been the most reliably uplifting for me on previous retreats has been the nightly chanting, especially the chants we've done in Pali. I remember being so inspired this past March when Kate Johnson (one of the assistant teachers) chanted the entire Metta Sutta in Pail — by HEART (!!!!).
So now I've decided that that is what I want to "pack."
The Metta Sutta is 10 stanzas long, 4 lines each, and it takes about 4 minutes to chant the whole thing. I already know it in English, but now I want to know it in Pali.
This is no small undertaking.
But I'm doing it.
Because I love it. And because I know this will keep me warm.
***
(Listen here to Jesse Vega-Frey lead this chant during a retreat at IMS.)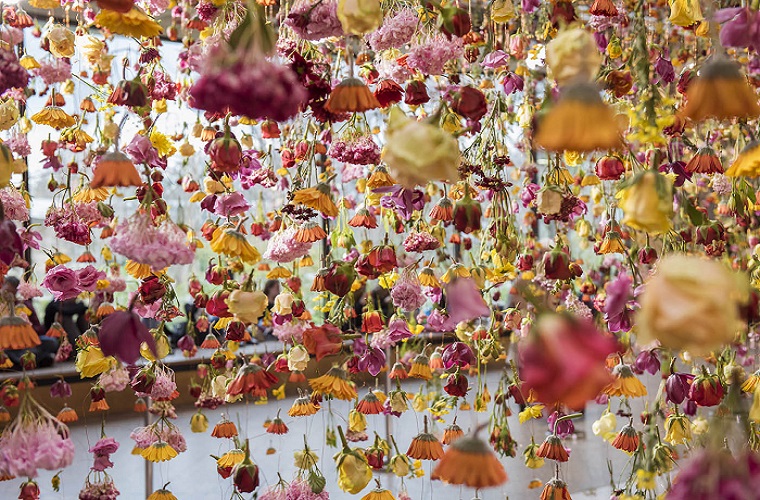 I was feeling the need for something peaceful and deeply soothing last night, so I listened to this lovely 15-minute recording of Thanissara and Kittisaro opening a retreat at IMS several years ago with the traditional chants of Blessing and Protection (Partita).
Thanissara begins the chanting (as she explains on the tape) by calling on all wholesome forces, both internal and external, including all the angelic beings that are said to help and guide practitioners — spirits of the earth, of the mountains, the oceans, of wind, and of fire — to bear witness and to bless and support us in the awakening process. Then Kittisaro joins her, and the chant transitions into recitations of core teachings of the Buddha — Reflections on the Triple Gem, the teaching on Loving Kindness, and various accounts of the Buddha as he overcame challenges through the power of truth and kindness and insight.
I turned out the lights, lay on the bed, and let the sounds pour over me. It was just what I needed. The chants are in Pali, so of course most of the words don't have any actual meaning for me, but the tones and the rhythm and the repetition — and who knows, maybe something more — really touched me.
I felt drenched in blessings.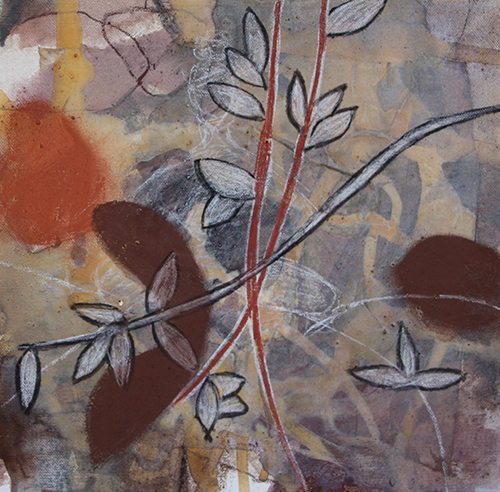 Today's post is in honor of Pauletta Chanco — artist, teacher, fellow CDL graduate — who passed away yesterday at her home in California, surrounded by family, held in love.
All conditioned things are impermanent.
Their nature is to arise and pass away.
To live in harmony with this truth
Brings true happiness.
*** 
Painting by Pauletta Chanco: Journey to Transcendence 1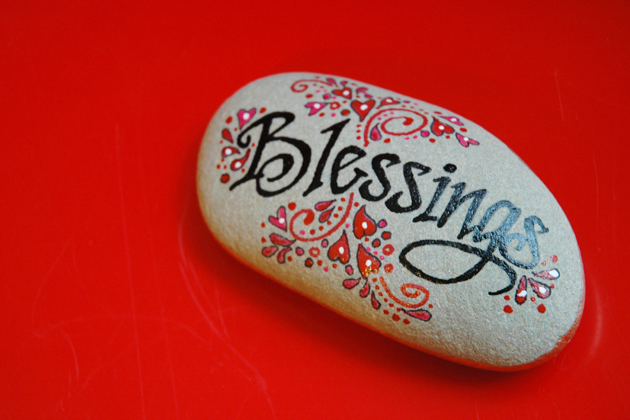 At Sunday Sangha yesterday, Thomas offered reflections on the Mangala Sutta, a much-beloved teaching that's often chanted at retreats led by monastics (and other auspicious occasions). Here's the English version I learned (from the Amaravati chant book):
[Now let us chant the verses on the Highest Blessings]
Thus have I heard that the Blessed One
Was staying at Savatthi,
Residing at the Jeta's Grove
In Anathapindika's Park.
Then in the dark of the night, a radiant deva
Illuminated all Jeta's Grove.
She bowed down low before the Blessed One
Then standing to one side she said:
"Devas are concerned for happiness
And ever long for peace.
The same is true for humankind.
What then are the highest blessings?"
"Avoiding those of foolish ways,
Associating with the wise,
And honoring those worthy of honor.
These are the highest blessings.
"Living in places of suitable kinds,
With the fruits of past good deeds
And guided by the rightful way.
These are the highest blessings.
"Accomplished in learning and craftsman's skills,
With disciple, highly trained,
And speech that is true and pleasant to hear.
These are the highest blessings.
"Providing for mother and father's support
And cherishing family.
And ways of work that harm no being,
These are the highest blessings.
"Generosity and a righteous life,
Offering help to relatives and kin,
And acting in ways that leave no blame.
These are the highest blessings.
"Steadfast in restraint, and shunning evil ways,
Avoiding intoxicants that dull the mind,
And heedfulness in all things that arise.
These are the highest blessings.
"Respectfulness and being of humble ways,
Contentment and gratitude,
And hearing the Dhamma frequently taught.
These are the highest blessings.
"Patience and willingness to accept one's faults,
Seeing venerated seekers of the truth,
And sharing often the words of Dhamma.
These are the highest blessings.
"Ardent, committed to the Holy Life,
Seeing for oneself the Noble Truths
And the realization of Nibbana.
These are the highest blessings.
"Although in contact with the world,
Unshaken the mind remains,
Beyond all sorrow, spotless, secure.
These are the highest blessings.

"They who live by following this path
Know victory wherever they go,
And every place for them is safe.
These are the highest blessings."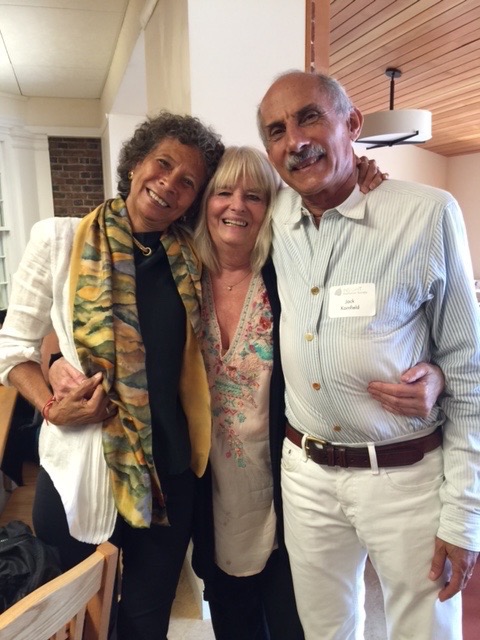 Every day, since coming home from the 2-month retreat, I've chanted the traditional "verses of sharing and aspiration" at the end of my morning mediation because this is what we did at the end of every day of the retreat and even though the wording is archaic — and kind of weird in some places — I was quite inspired by the practice.
And, because they are specifically called out, chanting these words makes me feel very deeply connected to "my spiritual teachers and guides of great virtue."
So I want to share with you this picture of three of these teachers: Gina Sharpe (who, as one of the lead teachers of the Community Dharma Leader program, inspired me to trust that "when the student is ready, the teacher will emerge"), Mirabai Bush (my first Dharma teacher, whose egoless presence and natural radiance completely changed the course of my life), and Jack Kornfield (who, as one of the teachers of the Community Dharma Leader program, stood and listened to the pain that some of his words had caused, and so gave me the courage to fail…and to succeed.)
As the chant says: May they all "receive the blessings of my life."
***
Here's the full chant:
Through the goodness that arises from my practice,
May my spiritual teachers and guides of great virtue,
My mother, my father, and my relatives,
The Sun and the Moon, and all virtuous leaders of the world,
May the highest gods and evil forces,
Celestial beings, guardian spirits of the Earth, and the Lord of Death,
May those who are friendly, indifferent, or hostile,
May all beings receive the blessings of my life.
May they soon attain the threefold bliss and realize the Deathless.
Through the goodness that arises from my practice,
And through this act of sharing,
May all desires and attachments quickly cease
And all harmful states of mind.
Until I realize Nibanna,
In every kind of birth, may I have an upright mind,
With mindfulness and wisdom, austerity and vigor.
May the forces of delusion not take hold nor weaken my resolve.
The Buddha is my excellent refuge,
Unsurpassed is the protection of the Dhamma,
The Solitary Buddha is my noble Guide,
The Sangha is my supreme support.
Through the supreme power of all these,
May darkness and delusion be dispelled.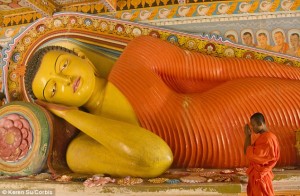 I've posted earlier about reading the Satipatthana Sutta out loud and having an experience that was closer to a visceral feeling of the words than a conceptual understanding of them. (full post here.) It was the English translation I was reading, of course, so I did understand what I was reading. But the repetition and the archaic style made it closer to music than text.
I had a similar-but-different experience of "knowing" the words — but in Pali this time — when I listened to an extraordinarily beautiful recording of the entire sutta, chanted by a Sri Lankan monk, Ven. Omalpe Sobitha Thero.
I offer it to you here, for your pleasure, and for whatever understanding comes with the experience:
To listen, start by clicking here. Then scroll down almost to the bottom of the page. Look for the Maha Satipatthana Sutta. Because the recording quality is so high, the file is quite large, so it is broken into four parts. Part 1 is an introduction in English (under 2 minutes). The chanting begins at part 2 (about 20 minutes) and ends with Part 4 (about an hour total).
It's more than gorgeous.
Just listen.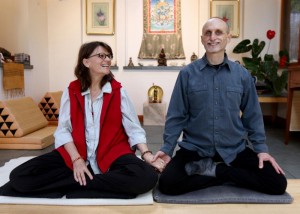 For today, I offer this lovely recording of Thanissara and Kittisaro (shown in photo) chanting Reflections of the Triple Jewel, which we chanted daily during the retreat I sat with them in South Africa.
It's only 1 minute and 52 seconds long — just right for a little uplift in the morning. Or whenever you need it!
The chant is in Pali. It's a recitation of the beautiful qualities of the Triple Jewel: the Buddha-Dhamma-Sangha (the Awakened One, the Teachings of the Awakened One, and the Community of Those Who Practice the Teachings of the Awakened One.)
Click here to download or stream.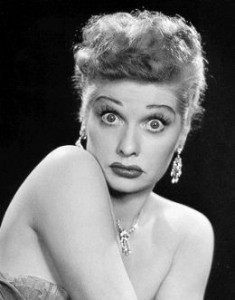 During the last week of the retreat at Dharmagiri, we focused on traditional Chan practices (Chinese Zen), which include contemplations and recitations of the well-known (but little understood) Heart Sutra with its famous mantra:
gate, gate, paragate, parasamgate, bodhi svaha!
(To hear an incredibly beautiful 2-minute recording of this mantra sung by Thanissara and friends, click here.)
Traditional translations of the mantra go something like this:
Gone,
Gone,
Gone beyond,
Gone far beyond,
What an awakening,
(Untranslatable Exclamation!!!!)
Kittisaro offered this alternative translation, attributed to his friend and fellow former-monk Paul Breiter:
Everything's changing,
Everything's changing,
Everything's always changing,
And there's nothing you can do about it,
That's the way it is,
OH MY GOD!!!!!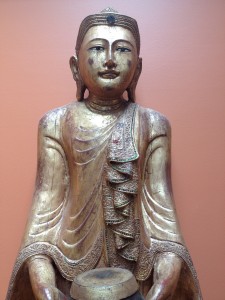 As part of my preparation for the month-long retreat in South Africa next year, I'm taking the Dharmagiri online study course. I started it while I was in Chapel Hill, but then I stopped to go on retreat. In the mean time, one of my DPP Dharma Buddies decided to take the course with me, (Yay, Carolyn!) so I've gone back to the beginning and started over again. Which is not a problem, since it's a go-at-your-own-pace kind of thing.
In fact, the program actually encourage going back over and doing things again. Module 1, Lesson 1, begins with the title "A Different Way of Learning." Here's what it says:
"Before starting, we again emphasize that our stye of Dharma transmission is informed by monastic Buddhism of the Forest School. In this, the embodiment of Dharma teachings is encouraged through repetitive reflection and practice. The goal of the Buddha Dharma is not intellectual prowess or a transfer of information, but a radical shift of alignment from old patters to an alive connection to ever present Dharma. This shift comes about through allowing the practice and teachings to deeply touch and transform the heart. Ajahn Chah encouraged us again and again to listen to the Dharma with our heart, not just our ears."
Want something really awesome for your heart to listen to? Check out Thanissara and Kittisaro chanting the Recollection of the Triple Jewel. It's less than 2 minutes long. And it's heavenly. Click here.