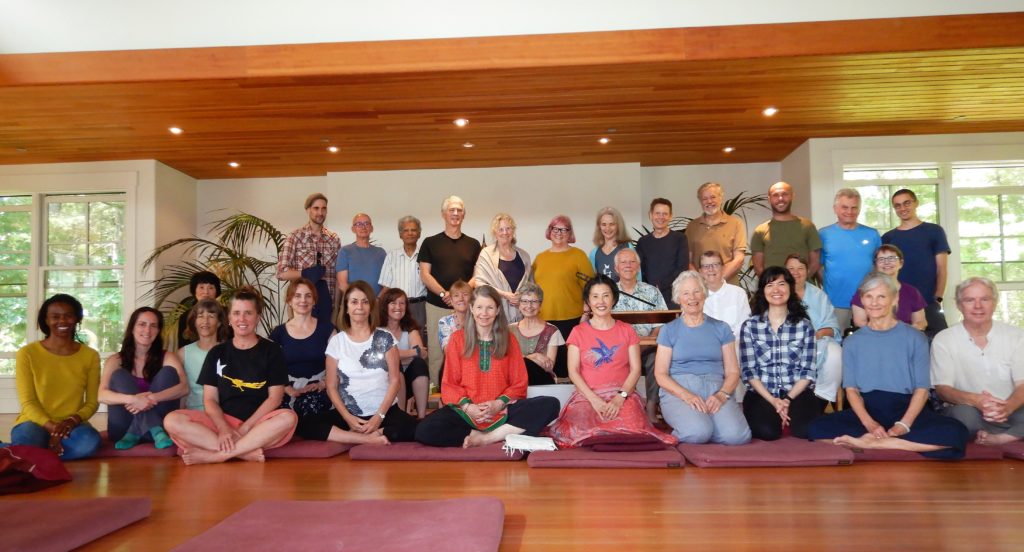 On Friday I received this photo from Guy and Sally Armstrong, which was taken on the last day of the June retreat I attended (which they taught) at the Forest Refuge earlier this year. (click image to enlarge)
It's quite unusual to have a group photo taken at the end of a retreat, but the retreat itself was quite unusual — in style, format, and content — and the successful completion of it seems to be signaling a new wave of "non-standard" retreats.
As a matter of fact, Guy and Sally will be teaching this same retreat/format (titled, The Still Heart of Awareness) in September of 2020. Here's how they describe it on the Forest Refuge website:
"This retreat will strengthen our understanding and experience of the nature of awareness in meditation practice.
"We will explore this in three stages. During the initial part of the month, we will build meditative stability through a focus on anapanasati (mindfulness of breathing).
"In the next phase, we will undertake intensive practice of metta (lovingkindness), allowing the beautiful and responsive qualities of heart to unfold.
"Then, with concentration and lovingkindness as our foundation, the last stage of the retreat will focus on specific meditative techniques that allow us to rest in the pure nature of awareness."
***
Sound awesome? It was!
***
Retreats at the Forest Refuge are for experienced meditators, which means you have to meet certain practice prerequisites before you can apply. And for this retreat, you have to stay for at least the full month of September. Then once you meet those requirements, the admission process is a lottery. Applications are due Nov 21, 2019.
(That's a lot, I know. But it's worth it.)