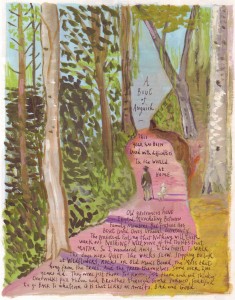 The latest issue of Mindful magazine just arrived, which is a treat for many reason, not the least of which is the drawing by Maira Kalman always featured on the last page under the heading: Mindspace.
Here's this month's installment. (click on the image to enlarge) It reads:
A Bout of Anguish —
This year has been laced with difficulties. In the world. At home.
Old grievances have erupted, ricocheting between family members. Bad fortune has beset loved ones. Upheaval. Uncertainty. The persistent feeling that nothing will ever work out.
Nothing? Well, none of the things that matter.
So I wandered away. To the forest. To walk. The days were quiet. The walks slow.
Stopping to look at wildflowers, rocks or Old Man's Beard, the moss that hung from the trees. And the trees themselves. Some over 1,000 years old. They were just there. You know, just there and not thinking.
One walks past them and breathes through some sadness, fortified to go back to whatever it is that lurks or awaits, bad and good.