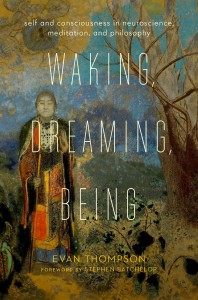 This is an unabashed plug for a remarkable new book, Waking, Dreaming, Being: Self and Consciousness in Neuroscience, Meditation and Philosophy, by Evan Thompson. I stumbled on a review of it in the New York Times late Saturday night and thought WOW!, so I immediately downloaded it onto my iPad and started reading. (Click here for the review.)
The book begins with a Forward by Stephen Batchelor, which is terrific, then a Prologue (The Dalai Lama's Conjecture), and then an Introduction (which gives an overview of the book and a summary of each of the chapters)…and then it gets down to the fundamental questions of consciousness:
Seeing: What Is Consciousness?
Waking: How Do We Perceive?
Being: What Is Pure Awareness?
Dreaming: Who Am I?
Witnessing: Is This a Dream?
Imagining: Are We Real?
Floating: Where Am I?
Sleeping: Are We Conscious in Deep Sleep?
Dying: What Happens When We Die?
Knowing: Is the Self an Illusion?
I've just finished "Waking" (chapter 2) and can't wait to get started on "Being." If you're at all interested in the nature of consciousness, especially as it's addressed by the intersection of Western Neuroscience and Eastern Philosophy/Religion…this is the book for you!
Enjoy.