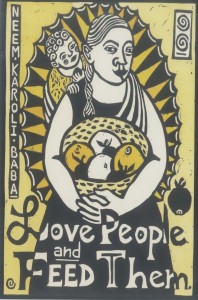 Here's a bit of Veggie Dharma from Deborah Madison, my go-to kitchen guru.
Cucumber and Pepper Relish
from Cooking and Eating from America's Farmers' Markets
Spoon this relish over pulled string cheese, fresh cheese curds, or grilled fish. If you like a bit of bite, add a teaspoon of minced hot chile.
1 or 2 dark green cucumbers (about 3/4 lb.)
1 small sweet pepper, any variety, very finely diced
3 scallions, including an inch of the greens, finely sliced
2 Tablespoons chopped dill
1 Tablespoon chopped lovage or cilantro
1 1/2 Tablespoons rice wine vinegar
Sea salt and freshly ground white pepper
Score the cucumbers with the tines of a fork or a citrus zester. Cut them lengthwise into quarters, slice off the seeds, then chop the flesh into small pieces. Toss the remaining ingredients. Taste for salt and adjust the level of acidity if needed. Let stand for 30 minutes if time allows. Use within a day or two. (Makes about 3 cups.)
(image by Anna Oneglia)