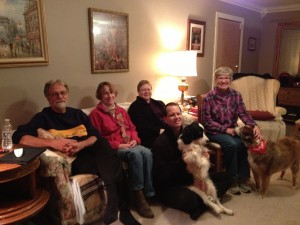 Last night the Dharma Seed KM group met and listened to a beautiful talk by Kamala Masters, called "The Long Range View of Practice."
The first part of her talk is an overview of the early benefits of practice and stories about her first retreat days, then she opens it up to give an inspiring picture of the highest goal of practice….the sure heart's release.
To quote the Buddha:
The reason for my teaching in not for merit or good deeds or good karma, or concentration, or rapture, or even insight. None of these is the reason that I teach, but the sure heart's release. This and this alone is the reason for the teaching of a Buddha.
(KM members pictured are: Scott N, Pamela, Candy, Scott S, Roberta…plus four-legged friends Sonny and Freddie. I'm behind the camera.)