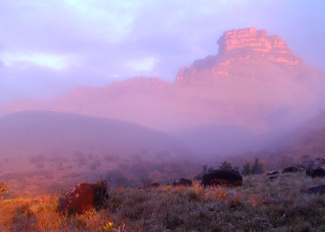 Don't freak out, but I'm thinking about going on a month-long retreat next January led by Kittisaro and Thanissara at their Dharmagiri Hermitage in South Africa!
January is summer in South Africa, which is part of the draw, but it's the location in the Drakensberg mountains that's really got me hooked. Just look at this photo!
Plus it would be awesome to sit for a month with these two amazing teachers, whose talks I've been listening to for years.
* I love the way they include chanting and Kuan Yin devotional practices with traditional Theravada teachings.
* I love their personal history. Kittisaro is an American, who went to England as a Rhodes Scholar, and ended up going to Thailand to study with Ajahn Chah and then becoming a monk. Thanissara is English. She also studied with Ajahn Chah and became a nun, and then met Kittisaro….and, well, now they're married.
* And I love the Dhamagiri mission: To support, promote, and celebrate the study, practice and teaching of the core principles of Buddhism in South Africa, and to support interfaith, educational programs and eco-awareness. Dharmagiri also initiates and supports non-denominational Outreach Programs particularly in health and education within the underprivileged communities in its local area.
***
The Dharmagiri Summer Retreat goes from January 6 to February 2, 2015. It would be expensive to fly there (about $1,800) but the cost for room and board would be quite low ($20-$40 per day), plus donation to the teachers. It would be a small group (about 20 people). There would be yoga. And walking and sitting etc. All in silence.
And, of course, there would be that beautiful, sacred land.