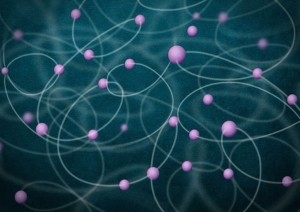 For today, a little poetry-and-quantum-physics entanglement:
Entanglement
by Jane Hirshfield
A librarian in Calcutta and an entomologist in Prague
sign their moon-faced illicit emails,
"ton entagle'e".
No one can explain it.
The strange charm between border collie and sheep,
leaf and wind, the two distant electrons.
There is, too, the matter of a horse race.
Each person shouts for his own horse louder,
confident in the rising din
past whip, past mud,
the horse will hear his own name in his own quickened ear.
Desire is different:
desire is the moment before the race is run.
Has an electron never refused
the invitation to change direction,
sent in no knowable envelope, with no knowable ring?
A story told often: after the lecture, the widow
insisting the universe rests on the back of a turtle.
And what, the physicist
asks, does the turtle rest on?
Very clever, young man, she replies, very clever,
but it's turtles all the way down.
And so a woman in Beijing buys for her love,
who practices turtle geometry in Boston, a metal trinket
from a night-market street stall.
On the back of a turtle, at rest on its shell,
a turtle.
Inside that green-painted shell, still smaller.
This continues for many turtles,
until finally, too small to see
or to lift up by its curious, preacherly head,
a single un-green electron
waits the width of a world for some weightless message
sent into the din of existence for it alone.
Murmur of all that is clasp able, clabberable, clamberable,
against all that is not:
You are there. I am here. I remember.