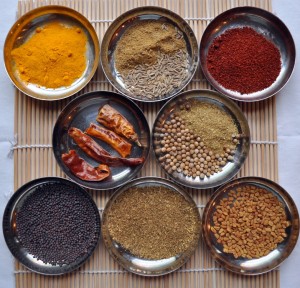 The Dancing with Life KM Group added a bit of spice to last Monday night's session by meeting at the home of one of our members — instead of at our regular meeting place — and having dinner together. We didn't talk much about the book, but we did talk about our lives and our practice….which, after all, is what Dharma Friendship all about.
We had Chickpea and Spinach Curry over Spicy Indian Rice with Toasted Almonds made from the totally awesome cookbook: Vegan with a Vengeance, by Isa Moskowitz. Here's the recipe for the curry:
Chickpea and Spinach Curry (serves 6-8)
1 12-oz can whole tomatoes (in juice, not puree)
3 Tbs vegetable oil
2 tsp mustard seeds
1 large onion, cut into 1/4-inch dice (about 2 cups)
4 cloves garlic, minced
2 Tbs fresh ginger, minced
3 tsp curry powder
2 tsp ground cumin
1 tsp ground coriander
1/8 tsp ground cloves
1/2 tsp ground cinnamon
1/4 tsp asafoetida (optional)
3 cardamom pods
1 tsp salt
10 cups fresh spinach, well rinsed and chopped
4 cups chickpeas, cooked and drained, or 2 15-0z. cans, drained and rinsed
Prepare the tomatoes by removing them one at a time from the can, squeezing out the juice, and tearing them into bite-size pieces. Place the prepared tomatoes in a bowl and reserve the juice in the can.
Preheat a medium-size saucepan over moderate heat; pour in the vegetable oil and then the mustard seeds. Let the seeds pop for about a minute (you may want to cover the pot so the seeds can't escape), then add the onion; turn up the heat to  medium-high and sauté for 7 to 10 minutes, until the onion begins to brown.
Add garlic and ginger, and sauté 2 more minutes. Add spices, salt and 1/4 cup of the reserved tomato juice; sauté one minute more. Add tomatoes and heat through. Add handfuls of spinach, mixing each addition until wilted. When all the spinach has completely wilted and the mixture is liquid-y, add the chickpeas.
Lower the heat, cover, and simmer for 10 more minutes, stirring occasionally. Taste and adjust the spices if necessary. Simmer uncovered for about 10 more minutes, or until a thick, stew-like consistency is achieved.
Enjoy with friends!