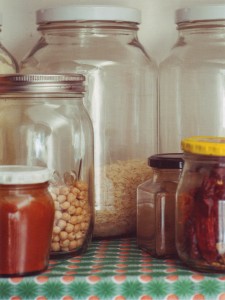 On retreat at Dharmagiri (and at almost every retreat center I've ever gone to) the evening meal (often called "tea") is usually soup and fresh baked bread. Which is perfect, because the noon meal is usually quite filling.
One of my favorite soups at Dharmagiri was Harira (Moroccan Chickpea Soup), which is featured in the cookbook I posted about previously — Retreat: The Joy of Conscious Eating. Since I now am in possession of that book, and was in the mood for something hardy and spicy yesterday evening, I decided to whip up a batch. It was quick and easy — and just as delicious as when I was on retreat!
Harira (Moroccan Chickpea Soup)
serves 4-6
1/4 cup olive oil
2 onions, chopped
1 tsp each cinnamon, coriander, cumin, paprika, turmeric (all ground)
2 stalks celery, chopped
1 clove garlic, chopped
2 tsp fresh ginger, grated
34 oz. canned tomatoes, chopped
1 cup cooked chickpeas
1 cup cooked brown lentils (I used 2 cups chickpeas instead of the chickpea-lentil combination)
1/2 cup rice, rinsed
1 cube veggie stock, dissolved in 750 ml water (I used 1 Tbs Penzey's Veggie Soup Base dissolved in 3 HOT water)
salt and pepper to taste
1/3 cup cilantro, chopped
1/3 cup parsley
1. Saute onion with spices in the oil until tender. Add the celery, garlic and ginger and stir for another minute.
2. Add the rest of the ingredients, except the cilantro and parsley, and simmer until rice is tender. (about 15-20 minutes)
3. Adjust seasonings and add more water if needed. Stir in cilantro and parsley just before serving and an extra drizzle of olive oil, if desired.
Enjoy!