The latest issue of Spirit Rock News includes an excerpt from Phillip Moffitt's terrific new book, Emotional Chaos to Clarity: How to Live More Skillfully, Make Better Decisions, and Find Purpose in Life.
The excerpt is about generosity, which "does not mean self-sacrifice or reckless giving everything away. Such acts," Phillip writes, "are actually grandiosity disguised as generosity."
I love that he talks about generosity in such, well….generous terms. He says, "In daily life, generosity means receiving each moment with a generous attitude and meeting it with patience."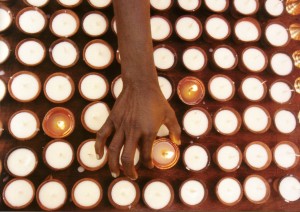 "When interacting with friends or strangers, you give them your full attention as you listen to their words, and you interpret their actions with sympathy, even when they are clumsy.
"You cultivate magnanimous thoughts that allow you to see others in their best light and to interpret their actions as well-meaning until proven otherwise.
"Being generous in your thoughts doesn't mean that you're naive or that you permit a wrong action to go uncorrected. Rather, it means that you treat every one as innately worthy of your respect and care."
What a beautiful way to live.
(image from "Offerings," by Danielle and Olivier Follmi)
Note: Dharma Town Times got hit last night with a major spam attack, so I've temporarily closed the comments section. You can always send a comment directly to me here.