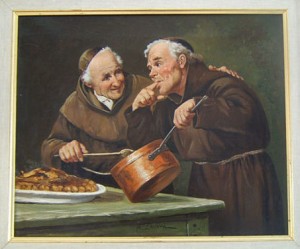 Another recipe today from the kitchens of the Garrison Institute — which used to be a Capuchin monastery, but is now primarily a Buddhist retreat center. (Things change.)
Spaghetti with Spinach, Pine Nuts, Garlic, Broth and Olive Oil
(serves 4)
6 cloves garlic, sliced
1/4 cup cold water
2 Tbsp. olive oil, divided
1 lb. to 2 lb. raw spinach, thoroughly cleaned
salt & black pepper
1 lb. good-quality spaghetti
3 Tbsp. pine nuts, lightly toasted
1 cup grated Parmesan cheese
1 tsp. crushed red pepper (optional)
Combine the garlic in a saucepan with water and 1 tablespoon of the olive oil. Simmer over low heat until the garlic is soft but not brown. Add a little extra water as needed so that it doesn't completely evaporate. There should be a few tablespoons of water left in the pan.
Add the garlic, oil, and water to a shallow serving bowl with the raw spinach, the remaining olive oil, and a pinch of salt and pepper.
Cook the spaghetti in salted boiling water until it reaches desired doneness. Drain lightly, leaving some water with the pasta, and add to the serving bowl with the spinach. Toss well with tongs. The spinach will release a little more water and begin to wilt. There should be a little broth at the bottom of the bowl. Toss the pine nuts on top and serve the cheese and red pepper (if using) on the side.
***
Recipe from Fresh Cooking: A Year of Recipes from the Garrison Institute Kitchen