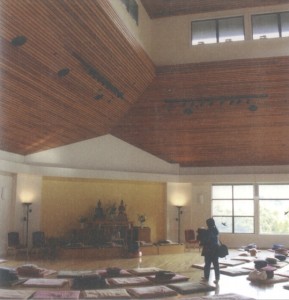 I'll be at away on retreat at Spirit Rock from Monday, August 13 through Thursday, August 23, so I won't be posting on Dharma Town till I get back. This will be my first retreat focused on Concentration Practice and I'm really looking forward to it. The teachers are Phillip Moffitt, Sally Armstrong, Andrea Fella and Tempel Smith.
Here's what the Spirit Rock Program Calendar says about the retreat:
"Concentration (samadhi), defined as the collection and unification of the mind, was emphasized by the Buddha as one of the aspects of the Eightfold Path. It can bring joy to your practice and develop the skillful use of pleasure in the meditation process. Whatever your level of practice, you can improve your Insight Meditation (vipassana) by strengthening your concentration skills. Your ability to concentrate will develop in response to the attention you give it.
"The retreat offers a series of techniques for staying on the meditation object for extended periods of time. We will explore the factors of concentration that lead to the deep absorption states known as jhana. Teachers will also give instruction utilizing concentration during insight practice."
Stay tuned!
(image from Sprit Rock publications)