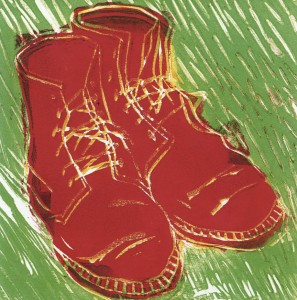 One of my new Dharma Buddies, Pamela, was at the Dharma Seed KM group last night, and before we started listening to the tape, I asked her how the training was going for the Camino de Santiago (the 500-mile pilgrimage across Spain) because I thought she was planning to walk it this spring. Turns out, she's planning to walk it with Deborah, who was also there last night….and they plan to walk it NEXT SPRING (starting in April of 2014).
Which means I could go with them!!!
I've already started training. Sort of. That 45-minute hike up and around the hills at the retreat outside of Tucson was my "official" start. (Because it was such an inspiring landscape….and because the path was challenging enough to require a walking stick.)
And of course, I've been mentally "training" by pouring over maps, reading books and watching YouTube videos. There are a dozens of them! Here's one in particular I like: On the Path.
(image: "A Whole World," by Couprie and Louchard)