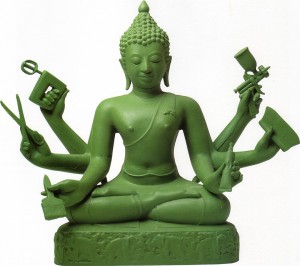 There was a terrific article in the New York Times this weekend, called "The Power of Concentration." Mindfulness has been getting a lot of press lately, but what I found especially interesting in this article was the research it sites, which "examined the effects of meditation training on multitasking in a real-world setting.
"In 2012, researchers led by a team from the University of Washington…asked a group of human resources professionals to engage in the type of simultaneous planning they did habitually. Each participant was placed in a one-person office, with a laptop and a phone, and asked to complete several typical tasks: schedule meetings for multiple attendees, locate free conference rooms, write a memo that proposed a creative agenda item and the like. The information necessary to complete those task? Delivered as it otherwise would be: by e-mail, through instant messages, over the phone and in person. The list was supposed to be completed in 20 minutes or less.
"After the multitasking free-for-all, participants were divided into three groups: one was assigned to an eight-week meditation course (two hours of instruction, weekly); another group didn't take the course at first, but took it later; and the last group took an eight-week course in body relaxation. Everyone was put through a second round of frenzy.
"The only participants to show improvement were those who had received the mindfulness training. Not only did they report fewer negative emotions at the end of the assignment, but their ability to concentrate improved significantly."
And there's more! Read the whole article here.