The same friend who recommended I read A Tale for the Time Being also sent me an article from Experience Life magazine, which features an amazing array of things to cook using one of my all-time favorite foods: Dark Chocolate. So in the spirit of appreciation for this generosity, I pass this particularly delicious-sounding recipe along to you. May all beings be well, happy and fully fed.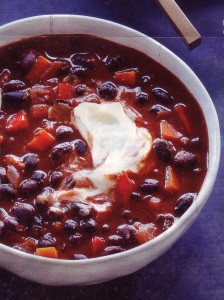 Black Bean Chili with Chipotle and Dark Chocolate
1 Tbs. extra-virgin olive oil
1 cup diced yellow onion
1 cup diced carrots
1 cup diced red bell pepper
1/2 tsp. ground cinnamon
1Tbs. ground coriander
1 can (14.5 oz.) fire-roasted crushed tomatoes
3 cups vegetable broth
4 cups cooked black beans (or two 15-0z. cans, drained and rinsed)
1 to 2 chipotle peppers in adobo sauce, diced
2 oz. dark chocolate (80 to 85 percent cacao content), coarsely chopped
Heat the olive oil in a large saucepan over medium heat, and sauté the onions, carrots, and bell peppers until softened. Add the spices, and continue to cook until the vegetables are caramelized. Add the tomatoes with their juice to deglaze the pan. Then add the broth, beans, and chipotle peppers and bring the chili to a simmer for 10 to 15 minutes. Stir in the chocolate until melted. Serve with a drizzle of Mexican crema, sour cream, or Greek yogurt. Makes 6-8 servings.