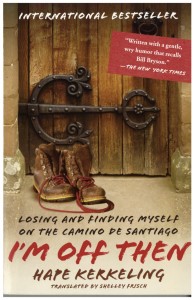 At Cafe Sangha this month, I got a chance to talk with Pamela, who is a regular at the Dharma Seed KM group, and found out that she is planning to walk the Camino de Santiago this spring! I met someone at the DPP retreat last fall who had just come back from walking it, and was immediately inspired…but then I started thinking that I can't get enough time off until next year at the earliest, and my knees hurt, and my back goes out, and — basically , I'm a couch potato — so I started to think I was crazy to even consider it…and then I ran into Pamela…and now I'm inspired all over again!
So naturally, I got out my favorite Camino book and read it again over the weekend. It's called I'm Off Then: Losing and Finding Myself on the Camino de Santiago and it's by a German comedian named Hape Kerkeling (who is apparently very famous). He is funny. And a great storyteller. Very down-to-earth. But also very inspiring. In a delightfully heartfelt but non-pious way.
Here's a sample:
"I decide to spend the remaining miles today without speaking or thinking, following advice from Sheelah, who said to me in Leon: 'You don't feel the toll this trek is taking on your body when you walk without thinking or speaking.'…Silence is easy to maintain; I've gotten fairly used to that. I say nothing to the farmers on the field as I pass by, and they respond in kind. They seem to respect my silence. But it is nearly impossible to stop thinking. In my mind I keep breaking out into song, or my thoughts turn to disjointed drivel along the lines of 'Where are my keys?' 'Buy cigarettes!' 'Aching feet!' 'Could go for some potato salad!'
"At some point I find I'm actually able to switch off my stream of thoughts and simply stop thinking. Incidentally, it is virtually impossible to describe a path after the fact when you are not thinking about it, since you see things without sorting them out or judging them. Dispassionate perception is hard to put into words.
"Everything joins together: my breath, my steps, the wind, the singing of birds, the waving of grain fields, and the cool feeling on my skin. I walk in silence. Am I pressing my feet onto the ground while I walk, or is the ground pressing up onto my feet?…
"Needless to say, I get hopelessly lost. With silence in my head and all this nonthinking for nine miles, I've lost track of the path's arrows and scallop signposts. And once I start to focus again, I am simply somewhere at some time. It's lovely here, but wrong. Later, though, it turns out that my meandering did not add up to more miles at all–in fact, it save me about two miles. A farmer sends me through a filed with grain as tall as I am, which brings me back to the right path. How funny! I stop paying attention to the trail, lose my way, and still wind up taking a shortcut…"