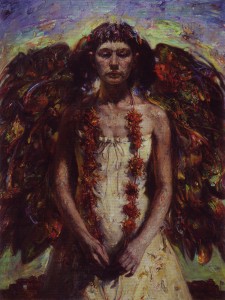 Last night I attended a wonderful, Chamber Music performance-with-discussion in which our very own, world-class Arianna Quartet played one of the final pieces of music that Beethoven wrote, Opus 135. It was the second of these events I've attended and they were both great. (And inexpensive!) They're part of the First Mondays concert series at UMSL Grand Center. The next one is in March. I will definitely be there…maybe I'll see you!
Anyway, I went with a dharma buddy, Thomas, and on the drive home we got to talking about how so much of the evening's discussion — about Beethoven's amazing music, his painful struggles with poor health, his impending death, and especially the notations he made in this score: "Must it be?" (at a very dark, somber passage) and then "It must be!" (at a very bright and life-affirming passage) — how all of this is reminiscent of the Buddha's teachings about suffering and the end of suffering, which is that release comes as a result of accepting, without aversion, that which can not be other than it is.
And then Thomas remembered a commentary on these late quartets, which quoted Nietzsche: "Whoever has built a new Heaven has found the strength of it only is his own Hell."
Which seems like a beautiful, even transcendent, but not exactly "happy" way of saying the same thing. Just like Beethoven's last quartet.
***
(image: The Wings by Victor Wang, oil on canvas, 2012)