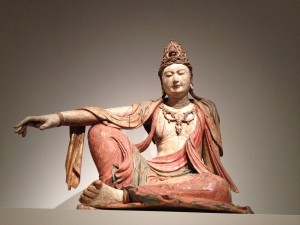 One of the reasons I decided to go to the retreat in South Africa next month is that in addition to two weeks of regular vipassana (insight meditation) practice, we'll also be doing two weeks of chanting/bowing/visualization practices, which are from the Mahayana schools of Buddhism.
The focus of these practices will be directed to the archetype of Infinite Compassion, personified by Kuan Yin (also spelled Guanyin). I'm interested in this practice, at least partly, because of the gorgeous Guanyin statue we have at the St. Louis Art Museum. (I find it mesmerizing.)
I don't know a lot about these practices, but I'm learning. Here's something of what Kittisaro and Thanissara have to say about it in their online Dharmagiri course:
"Calling the name Kuan Shr Yin Bodhisattva invokes and embodies her energetic expression. While doing the recitation, focus your mind on the qualities of compassion and the attributes of Kuan Yin, and imagine yourself as a conduit for these qualities as they flow out into the world. As we become more proficient in holding the mantra along with the visualization of Kuan Yin's wonderful qualities, little by little we unite with the vast mysterious and universal body of compassion, enabling us to heal, transform and understand the many states of suffering, while in service to the whole."
Attributes of Kuan Yin
Wise Compassion
Swift Protection
Creative Wisdom
Impeccable Virtue
All Victorious
Sublime Intelligence
Worthy of Honor
Invincible Courage
Destroyer of Negativity
True Refuge
Joy and Laughter
Distribution of Wealth
Auspicious Beauty
Irresistible Truth
Ferocious Compassion
Serene Peace
Destroyer of Attachment
Bliss and Joy
Transformer of Poison
Remover of Sorrow
Radiant Health
Complete Enlightenment
***
Wow. Imagine what it would like to be a conduit for just one of these!