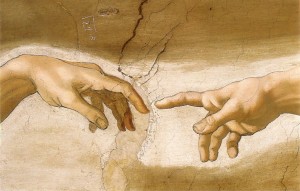 I've been listening to U Tejaniya answer questions from students on retreat at IMS (available on Dharma Seed here) and reading his most recent book, "Dhamma Everywhere" (available as a free pdf here), and I'm very intrigued by his teachings…which are light, relaxed and very naturalistic.
He says, "…Do you know that you have a mind? How do you know that you have a mind? You can see or observe the mind through its workings/functions, e.g. knowing, thinking, experiencing, feeling, wanting, focusing, etc.
"Now, put your hands together and look at your clasped hands. You know that your hands are touching, right? How do you know this touching sensation? What is the mind doing that you are able to know this? You know because the mind is aware and paying attention to it right now.
"Do you know that the mind is paying attention and aware? Would you know that your hands were touching if your mind was thinking about something else?
"No.
"So you can see that it is not merely because your hands are touching that you know but because the mind is paying attention and awareness is a quality that is part of this attention that you know they are touching.
"Can you shift your attention from your palms to your feet? You can, right? This shift in attention is actually the mind at work. It is the mind paying attention.
"If you know that you are paying attention, then you are aware of the mind." 
Maybe it's just where I am in my practice right now, but I find not only what he says — but how he says it — to be very, very helpful.