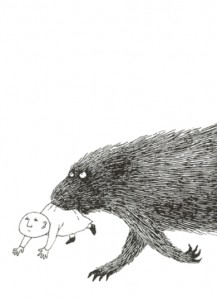 The next link on the chain of Dependent Co-Arising is jati, which translates as "birth." This is the "moment of arrival," the sense of "I've got it!" or "this is who I am."
Christina Feldman says that this is the moment of "emergence of an identity, a sense of self that rests upon identifying with a state of experience or mode of conduct…the do-er, the thinker, the seer, the knower, the experiencer…..the sufferer."
Suffering is, of course, what eventually happens. Because being someone or something always comes with the stress of defending that state, with trying to keep it going, or controlling it in some way. Which can not be sustained.
That which arises, passes away.
This leads us to the next link of the chain (coming tomorrow).
Stay tuned.
(image: detail from illustration by Edward Gorey)