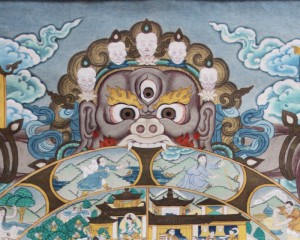 Wow, just when I thought I'd gone about as far as I could go into Dharma-Study-Geekdom (having finished reading the Majjhima Nikaya, Samyutta Nikaya, and about to start in on the Anguttara Nikaya), I get an email from Spirit Rock announcing a new, 6-week on-line course of study on the Abhidhamma!
The Nikayas are one thing, but the Abhidhamma….well, let me just list some of what the course will cover:
* The four kinds of empirical realities — mind, mental factors, materiality (which are conditioned) and Nibbana (which is unconditioned)
* The 52 mental factors that arise in various combinations to create each moment of experience
* The five levels of jhana (states of absorption) that must be developed in order to attain concentration
* The realms of consciousness (the knowing capacity of the mind) and the stream of consciousness that constitutes mental life
* The elements of material reality and how they condition consciousness
* Kamma (the law of cause-and-effect) and how it conditions consciousness
* Dependent origination
* Buddhist personality types
* The Progress of Insight
***
Not for the faint of heart, I'll grant you. But I snapped it up!
The course is A Field Guide to the Mind: Practical Abhidhamma for Meditators, taught by Steve Armstrong. There will be six weekly hour-long video recorded talks, six weekly half-hour video Q&A sessions plus audio guided meditations, a 36-page downloadable handbook, and three live conference calls. It begins Oct 15 and runs through Nov 12. Cost is $120.
Interested? Click here for more info.