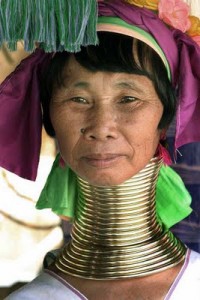 I have just finished another of the wonderful books my teacher, Lila, recommended I read in preparation for going to Burma. (Reading list here.) This one, non-fiction, is called From the Land of Green Ghosts, in which the author–Pascal Khoo Thwe, a member of a tiny, remote tribe in the hills of Burma famous for their "giraffe-necked women"–recounts a chance meeting with a Cambridge don and the correspondence the two strike up, leading to Pascal's rescue from the jungles where he has had to flee after opposing the corrupt military dictatorship and his subsequent admission to Cambridge where he receives a degree in English Literature!
Whew.
And on top of all that, the writing is gorgeous!
Here's how the story begins:
'My ancestors told me it was after the beginning,' said my grandmother, Mu Tha, adjusting her head on the log she was using as a pillow. Her brass neck-rings gleamed in the candlelight. The rings were fourteen inches high and rose to her head as though they were supporting a pagoda stupa. Hanging from her ears and neck were several silver chains holding coins and charms. The holes in her earlobes were big enough to put a bottle cork in. We sat at her feet massaging her legs and shoulder as we listened to her story.
'The male and female winds were blowing through space, but the female wind was pregnant and could not keep up with the male. The male wind circled her until she gave birth to a golden egg, from which emerged the goddess of creation with her children. Sitting on the empty shell of the egg, the goddess watched the faraway stars coming into existence. They appeared in the deep blue-black sky like tiny but brilliantly luminous red, white and yellow flowers, their petals falling to the ground in a gale, filling the firmament.'