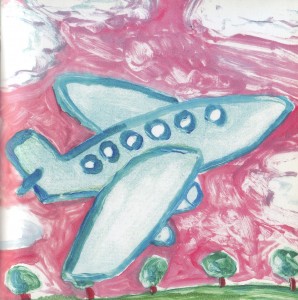 Note: I will be away on retreat until Oct 24, so there will be no new DharmaTown postings until I return.
***
At the last Dharma Seed KM meeting before my retreat, one of our members (Roberta!) brought home-made muffins (which she often does!) and this time she decorated one of them (for me!) with a "banner" that read:
Farelong, oh Crumpleweed, our friend! We'll miss you! 
This was especially wonderful since it's a quote from something my teacher, Lila Wheeler, had read in one of the talks we've listened to. (You can hear the talk here.)
Here's the whole quote:
Whenever I part with my kids or my husband, I always try to say something loving because I imagine a car crash or somebody's heart giving out, and I don't want my last words to be impatient or distracted. Neither do I want my "I love you's" to become automatic. So I've been trying to come up with ways to say good-bye that are unique, intimate, and genuine.
For several years when my son was young, he used to say to me, "Farelong, oh Crumpleweed, my friend," whenever he left the house. I have no idea where he got it. Those are words of good-bye I could live with.  — Angelina Citrone, from The Sun magazine
***
So Farelong, oh you Crumpleweeds, my DharmaTown friends. I look forward to connecting with you again when I return.
(image from: A Whole World, by Couprie and Louchard)