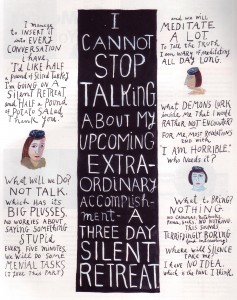 How about doing something Extra-Ordinary….as in: I Cannot Stop Talking About My Upcoming Extra-Ordinary Accomplishment–A Three Day Silent Retreat. (Illustration by Maira Kalman, mindful.org, Oct. 2013. Click on image to enlarge)
Maira writes:
* I manage to insert it into every conversation I have. "I'd like half a pound of sliced turkey…I'm going on a silent retreat…and a half a pound of potato salad. Thank you."
* What will we do? NOT TALK. Which has its BIG PLUSSES. No worries about saying something stupid every five minutes. We will do some menial tasks. (I love this part.)
* And we will meditate A LOT. To tell the truth, I am wary of meditating all day long.
* What demons lurk inside me that I would rather NOT encounter? For me, most revelations end with "I am horrible," and who needs it?
* What to bring? NOTHING. No cameras, notebooks, pens, books. No nothing. This sounds terrifyingly boring (and interesting). Where will silence take me? I have no idea. Which is the point. I think.
***
Want to see where silence will take you?
Mid-America Dharma is offering an excellent opportunity at the 3-day silent retreat taught by Gloria Taranyia Ambrosia here in St. Louis, May 7-10. (For more information, click here.)
Come see for yourself. It will definitely not be an ordinary accomplishment.