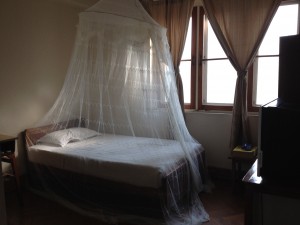 OK. So now for a posting that's a little more personal. Bottom line: I really loved the trip to Burma…and I was really glad to come home. One of the things I loved was sleeping under a mosquito net…especially since at the beginning of the trip there were hardly any mosquitos…and especially when the netting was as pretty as it was in this sweet little room at the Rainbow Hotel in Yangon.
The bathroom, however, was considerable less romantic. Clean. But dingy. No hot water in the sink, mildew on the shower curtain, decades of successive layers of less-than-expertly-applied caulking around the tiles, and, well…just generally funky. BUT…it had a Western-style sit-down toilet. AND toilet paper!!!!
This was by far the nicest room…and, overall, the nicest hotel….I stayed in during the entire trip. ($45 per night for a single including breakfast. Not all the rooms were as nice as this one, but still I recommend the hotel — as long as you're not too squeamish about the bathroom experience.)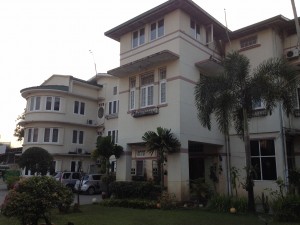 Here's what it looks like from the outside. Apparently it was originally two luxurious homes (maybe from the Colonial period?) that were combined — somewhat confusingly, I'm afraid — to make a hotel. A Korean woman now owns it, and the breakfasts were wonderful, Korean-style buffets (you just had to be in the mood for hot and spicy!) She was lovely and everyone on staff was friendly, happy, helpful and just as sweet as they could possibly be. (And they all spoke at least some English.)
Best of all, the hotel is walking distance to the Shwedagon Pagoda. More on that tomorrow.