Last night I opened the Hi-Pointe Sitting Group with this excerpt from Wild White Horses, by Laurie Anderson.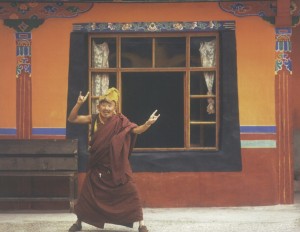 In the Tibetan map of the world, the world is a circle, and at the center there is an enormous mountain guarded by four gates. And when they draw a map of the world, they draw the map in sand, and it takes months and then when the map is finished, they erase it and throw the sand into the nearest river.
Last fall the Dalai Lama came to New York City to do a two-week ceremony called the Kalachakra, which is a prayer to heal the earth. And woven into these prayers were a series of vows that he asked us to take and before I knew it, I had taken a vow to be kind for the rest of my life. And I walked out of there and I thought: "For the rest of my life?? What have I done? This is a disaster!"
And I was really worried. Had I promised too much? Not enough? I was really in a panic. They had come from Tibet for the ceremony and they were walking around midtown in their new brown shoes and I went up to one of the monks and said, "Can you come with me to have a cappuccino right now and talk?" And so we went to this little Italian place. He had never had coffee before so he kept talking faster and faster and I kept saying, "Look, I don't know whether I promised too much or too little. Can you help me please?"
And he was really being practical. He said, "Look, don't limit yourself. Don't be so strict! Open it up!" He said, "The mind is a wild, white horse and when you make a corral for it, make sure it's not too small. And another thing: when your house burns down, just walk away. And another thing: keep your eyes open.
And one more thing: Keep moving. Cause it's a long way home."
(image from "Offerings," by Danielle and Olivier Follme)