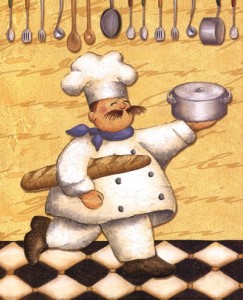 This just in from the IMS (Insight Meditation Society) Kitchen Website. I ate this cornbread last year when I sat the 6-week retreat. They served it with veggie chili and it was GREAT!!!!
Maple-Bottomed Rosemary Skillet Cornbread  (serves 6)
3/4 cup cornmeal
3/4 cup whole wheat pastry flour
1/2 teaspoon salt
1/4 teaspoon baking soda
1/2 Tablespoon baking powder
1 teaspoon fresh rosemary — crushed or ground
1 Tablespoon sugar
1 egg (beaten)
2 Tablespoons butter — melted
1 cup milk
For the bottom of the pan:
2 Tablespoons maple syrup
2 Tablespoons butter — melted
***
1. Preheat conventional oven to 375 degrees F
2. Mix dry ingredients except for sugar and rosemary and set aside.
3. Warm the milk slightly and then add to it the sugar, rosemary and the first amount of melted butter. Take off burner and when just warm (not hot) add the beaten egg.
4. Put maple syrup and second amount of butter into a large cast iron skillet or Pyrex baking dish and heat gently on burner (if using skillet) or in oven (if using Pyrex) till butter is melted. Then put aside.
5. Add milk mixture to dry ingredients and stir just until smooth. Do not over-mix. Pour the batter into the pan, over the maple syrup and butter.
6. Place pan in oven and bake until done (about 30 minutes). Top should be golden and spring back to the touch. A toothpick inserted in the middle should come out clean.
Enjoy!