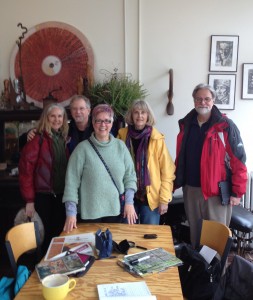 The Buddha said (I'm paraphrasing here) that being in the company of good friends is vital to living a life that is wise, compassionate and free of suffering. So I want to put a plug in here for Cafe Sangha, DharmaTown's monthly no-program, no-agenda, just-get-together-and-get-to-know-each-other social event. It's not even an event! It's just a place and time where friends can stop by and hang out.
Where: Stone Spiral Coffee Shop, 2500 Sutton, Maplewood (just north of Manchester)
When: the first Saturday of every month
What time: any time between 8:30 and 10:00 am
Last Saturday, Chris, David, Nadine, Scott and I met and had a great time looking at pictures of Scott's new granddaughter, talking about the recent retreat in Arizona, and Chris's trip with her daughter to Florence.
Cafe Sangha meets again on Saturday, April 6. I hope to see you there!