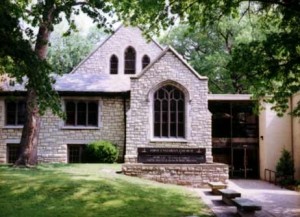 Things change.
Blue Lotus Dharma Center, where the Hi-Pointe Sitting Group has been meeting, will soon move to a new location. They will also expand their program at the new site, which means that Wednesday nights will no longer be available to us.
So tonight is the last night we meet at Blue Lotus.
But we've found a new location!
Beginning on Wednesday, Feb 27, we will sit at First Unitarian Church, 5007 Waterman at Kingshighway, in the Central West End. We'll meet at the same time as always: every Wednesday from 7:00 to 8:30 pm. There's a parking lot next to the building. The entrance to the lot and the building is on Waterman. Everything else will be pretty much the same….we start with a 40-minute sit, followed by informal discussion. There are plenty of chairs, but if you prefer to sit on a cushion, you should bring your own.
Oh. And since we'll no longer be meeting in the Hi-Pointe neighborhood, we've changed our name. We are now the Dharma Friends Sitting Group.
The building is lovely, by the way. (see above)
I hope you will join us.
For more info, contact Jan.