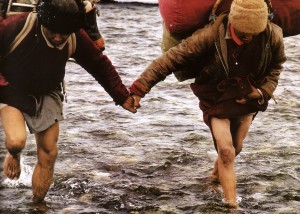 At the retreat, one of the teachers (Anushka Fernandopulle) mentioned that early in her dharma life, she decided to take on the practice of reading one sutta every day. There are LOTS of suttas (teachings)….152 in the Middle Length Discourses alone…so I'm sure it's a many-year practice, but somehow the idea really inspired me and I decided to do the same thing.
Our primary text for the Dedicated Practitioner Program is The Middle Length Discourses of the Buddha (Majjhima Nikaya), translated by Bhikkhu Nanamoli and Bhikkhu Bodhi, so I've started with that. (Bhikkhu Bodhi, by the way, was at the retreat! Which I think was part of the reason I was so inspired.)
We've already read quite a few of these suttas (the Satipatthana Sutta was the subject of one entire retreat) but reading ALL of them, one by one, day after day…that's a whole other thing.
Luckily, one of my DPP Dharma Buddies ALSO decided to take on the practice.
I've just finished reading #9. These teachings were orally transmitted for the first several hundred years, so they're formulaic and repetitive to say the least.
But there's also something profound about the form….and the pace.
I feel grateful to have found this path and to be on this journey.
Still, it's good not to be going it alone.
(image from Danielle and Olivier Follmi)