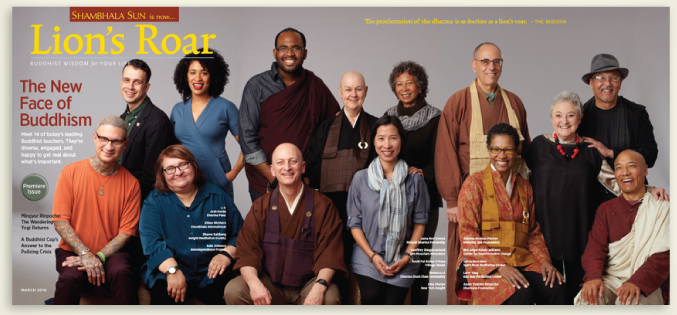 Things, they are a changing!
Not easily, I might add. And not without confrontation, frustration, personal hurt…and  even organizational trauma! I was on a conference call last night intended to address these issues with some of the leadership at Spirit Rock and IMS; a large number of fellow Community Dharma Leaders-in-Training (one of whom appears in the photo above!); and the Core Faculty of the next Teacher Training Program, some of whom appear above and all of whom recently resigned over issues of institutional power/privilege and, yes, racism! But that's for another post.
For now, let's just take a moment to smile as we look at what truly is The New Face of Buddhism. The photo above is the new, fold-out cover of Shambala Sun magazine, now re-named: Lion's Roar.
We've come a long way, Baby.
But oh how far we have to go.