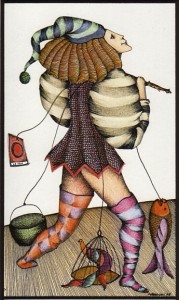 Since I don't want to have a deal with a lot of luggage while I'm traveling in Burma….and because I want to make sure whatever luggage I do have actually arrives at the same destination (and at the same time) that I do…I'm planning to take everything I'll need for the entire month-long pilgrimage in one carry-on shoulder bag and a small backpack. (The weather will be warm — 50 to 70 in the evening, 70 to 90 in the day — and we've been told to dress modestly, which means shoulders and knees should be covered, nothing sheer or see-thru, preferably plain white tops with loose, dark-colored pants/skirts.)
Here's what I'm taking:
Clothing (it helps that we'll be able to do laundry, and that I'll be wearing a lot of this, in layers, on the plane)
2 plain white cotton T-shirts
1 quick-dry, short-sleeve camp shirt
1 long-sleeve linen T-shirt
2 loose, light-weight pair of pants…one linen, one rayon blend
1 light-weight, ankle-lenght skirt, rayon blend
1 tropical-weight sweater, wool
1 fleece zippered jacket
1 sarong, rayon
3 scarf/shawls in various weights…one linen, one "pashmina", one very light cashmere
3 bras and 6 pair of quick-dry underwear
2 pair of socks…one cotton, one very light wool
1 pair of knee-high compression stockings (to wear on the plane)
1 set of long-sleeve/long-leg, light-weight pajamas
1 set of tank-top/short-leg (very light-weight) pajamas
1 pair of Keen flip-flop-type sandals
1 pair of Keen "strappy" walking shoes
1 crushable sunhat
Non-clothing
Noise-canceling headphones (makes all the difference on a long flight)
iPad (mostly for reading material on the plane)
iPhone (mostly for the camera)
journal and pens
sunglasses
small flashlight (for when the power goes out, which apparently it does quite often)
travel alarm
wrist watch
quick-dry travel towel (the monastery will provide sheets, but not towels)
a picture book of St. Louis landmarks to facilitate communication and connection with the Burmese (thanks, Lila, for this suggestion)
Snacks
raw whole almonds
dried apricots
dark-chocolate-covered almonds
1 good dark-chocolate bar
Jolly Ranchers
4 fruit/nut/protein bars
Toiletries/Meds
toothbrush and travel-size toothpaste (I can always buy more)
dental floss
travel-size shampoo
travel-size body wash
razor
tweezers
nail clippers
pre-moisten face/hand wipes
pocket-size packets of Kleenex
hand sanitizer gel
sunscreen and lip balm
skin cream
mosquito repellent
anti-malaria pills
prescription antibiotics (Cipro)
Immodium (anti-diarrhea)
Pepto-Bismol Chews
Dramamine (anti-nausea)
Charcoal tablets (for upset stomach)
Zyrtec (antihistamine)
Aleve (pain and fever med)
Mucinex (cough and cold med)
Anti-itch cream (for insect bites)
Anti-bacterial wipes
Band-aids
Oh yeah, and money, passport, tickets, itinerary, maps, directions to the hotel in Burmese, emergency contact info, etc.
Whew. That should do it!