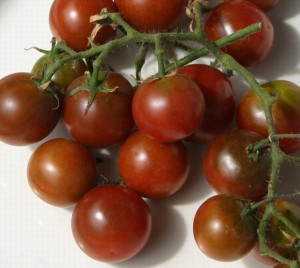 One of the July menus in the Year of Recipes from the Garrison Institute Kitchen calls for brown cherry tomatoes, which at first I thought was a typo and what they really meant was: browned cherry tomatoes. But I was wrong. It seems there's a "new" heirloom variety of tomatoes, which they grow at the Garrison Institute gardens.
So of course I thought I would never encounter them. But I was wrong again. Whole Foods had a whole table of them! (These were grown in a greenhouse  and shipped from Canada, so they probably don't taste like the ones picked from the gardens at the Garrison Institute, but I figured I'd give them a try anyway.) I tasted one right out of the package with a little sea salt and it was pretty good. Quite tart. Meaty. With a firm skin.
Here's the recipe, which I plan to make tonight:
Pasta with Brown Cherry Tomatoes, Eggplant, Salt-Cured Capers, Mozzarella, Mint, Basil, and Garlic
1/2 lb. high-quality penne pasta, cooked according to package
1 cup brown cherry tomatoes (or your favorite variety)
1/2 lb. fresh mozzarella, cut into 1-inch cubes (room temperature)
1/2 cup olive oil, divided
1/4 cup coarsely chopped mint
1/4 coarsely chopped basil
1 1/2 tsp. chopped garlic
1 1/2 tsp. salt-cured capers, soaked for a few minutes in water  (I'm going to have to use water-packed capers. Outside of Italy, or a real Italian grocery store…like on the Hill in St. Louis…I've never been able to find capers packed in salt.)
Salt & black pepper
1 1/2 cups eggplant, cut into 1-inch cubes, skin on or off
1.Preheat oven to 400 F. Cut the cherry tomatoes in half, or quarter them, depending on the size, and place in a serving bowl.
2. Add the fresh mozzarella to the tomatoes in the bowl along with 1/4 cup olive oil, mint, basil, garlic, drained capers, and a pinch of salt and pepper. Let the mixture stand to allow the flavors to blend while roasting the eggplant.
3. In another mixing bowl, toss the eggplant with the remaining 1/4 cup olive oil and pinch of salt. Roast on a baking sheet until golden brown and completely tender, about 10 to 12 minutes. (Underdone eggplant is spongy and bland, yet bitter, while well-cooked eggplant is silky in texture with a more developed, sweeter taste.) Keep in a warm spot on the stovetop.
4. Add the just-cooked, al dente pasta and hot eggplant to the bowl with the tomato mixture. Toss together. Taste and adjust the salt and pepper. Serve warm.
The original recipe serves 4 to 6. I'm by myself, so I've halved the ingredients. I figure this should make enough for 2 dinners.